Carefree Beauty with Michelle Vina-Baltsas

Carefree Beauty with
Michelle Vina-Baltsas

May we introduce you to an amazing woman? 
Meet Michelle Vina-Baltsas. 
This 54-year-old Boom Ambassador hails from New York. She's a holistic- and intuitive-eating coach who helps women in midlife redefine health without dieting. 
This isn't just Michelle's job… it's her passion. 
In addition to guiding her clients, Michelle moderates the "No-Diet Sisterhood" Facebook group, leads her own "Joyful Movement" program, and frequently speaks publicly about women's health, dieting, menopause and exercise. 
Michelle is also passionate about pro-aging products—including Boom makeup and skin care. 
She says, "Boom products are pure, easy to use and help women feel and look terrific!
"I don't feel like I look unnatural, and that's the way I want to look."
In the video below, Michelle shows you how she creates her beautiful, carefree look with Boomstick Trio™.
Naturally soft skin
Before Michelle applies her makeup, she moisturizes her lips with Boomstick Glo™.
This convenient moisturizing stick contains ingredients straight from nature, including beeswax, a natural sealant that helps your skin retain moisture. 
Boomstick Glo also contains honey, a natural humectant, collagen stimulator and anti-irritant, and olive oil, which has been used for thousands of years to keep skin soft and supple. 

Michelle says, "I love Boomstick Glo because I can carry it around with me. It's really convenient."
Beautiful, natural-looking color

Then, Michelle applies Boomstick Color™ to her deeply moisturized skin.
As she's applying Boomstick Color to her cheeks, forehead, nose and chin, Michelle says, "I know it looks like a lot now, but once you start to rub it in, it blends right into your skin naturally."

We call Boomstick Color "the color of happiness" because it's designed to mimic your own happy, excited flush. Its sheer, deep berry tint blends easily to match your skin tone.
You can use this flattering color to create a sun-kissed look, add warmth to your skin or even contour.  

"Just for fun"

Next, Michelle applies Boomstick Glimmer™, our pearlescent highlighter.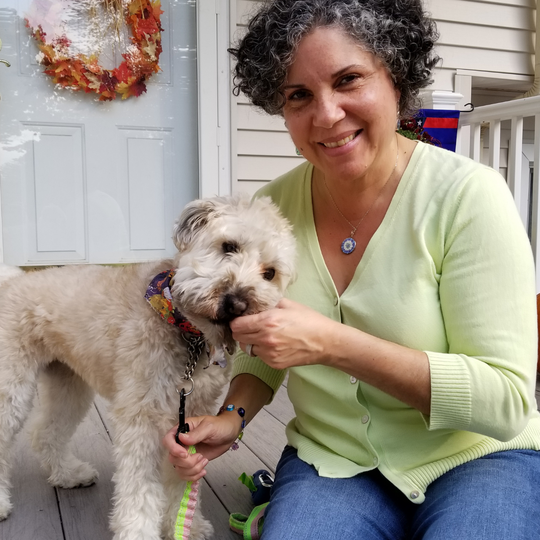 "I use this sparingly, I don't use a ton of it," she says, dabbing Boomstick Glimmer onto her eyelids, browbones, cheeks and neck. She adds, "Just for some fun."

You can use this creamy cosmetic to draw light and add subtle radiance to your skin. 
Apply Boomstick Glimmer to the tip of your nose, tops of your cheekbones and your décolleté or collarbones when wearing a low-cut top for a sophisticated shimmer.
Last but not least: lips

Finally, Michelle applies Boomstick Color to her lips and dabs a bit of Boomstick Glimmer on top.
Then, Michelle puts her glasses on, touches up her cheeks and lips with a bit more Boomstick Color, and is ready to go. 

She says, "As you can see, it takes minutes. I feel like I look fresh but I have some color. I just love these products because they make my life easy."
What do you think of Michelle's carefree look? Do you do anything different when you apply your makeup? Tell us about it in the comments below.
CHECK OUT OUR MOST POPULAR CONTENT