Cambria's Evening Routine for Luminous Morning Skin

Cambria's Evening Routine
for Luminous Morning Skin

If you spend all day in a mask and a dry climate, like today's Phoenix-based Boom Ambassador, your skin might suffer. Luckily, she has a skin-care solution to share with you! 
As a pediatric therapist, 50-year-old Cambria Hunter wears a mask all day, which dries out the skin on her face. To restore that lost moisture, she cares for her skin every night to keep it nourished and hydrated.
Today, Cambria shares her evening skin-care routine that keeps her skin soft, supple—and ready to take on the day. Get her tips in the video below.
1. Wash with Boom Clean™ 
Cambria starts with Boom Clean, our fresh-smelling skin cleanser made with grapefruit peel oil. 
Many women over 50 have dry skin. That's why Boom Clean is formulated to remove makeup, dirt and other contaminants from your skin without drying it out. 
In fact, Boom Clean contains three different skin conditioners. 
So what is this cleanser missing? Soaps, SLS, dyes, artificial fragrance and parabens.
Formulated with pure, gentle ingredients, you can use Boom Clean daily: morning, night, or both.

Cambria applies a dime-size amount to her wet skin, massages it in, then rinses with a moist washcloth. Boom Clean also rinses away with warm water at the sink or in the shower. 

"Boom's message resonated with me...to look naturally beautiful and embrace my aging with elegance."—Cambria Hunter
2. Exfoliate and decongest pores
Cambria follows Boom Clean with Boom Scrub™.
She says, "I was using a mask that was drying out my face. One thing I love about Boom Scrub is that it actually moisturizes your skin yet it's exfoliating."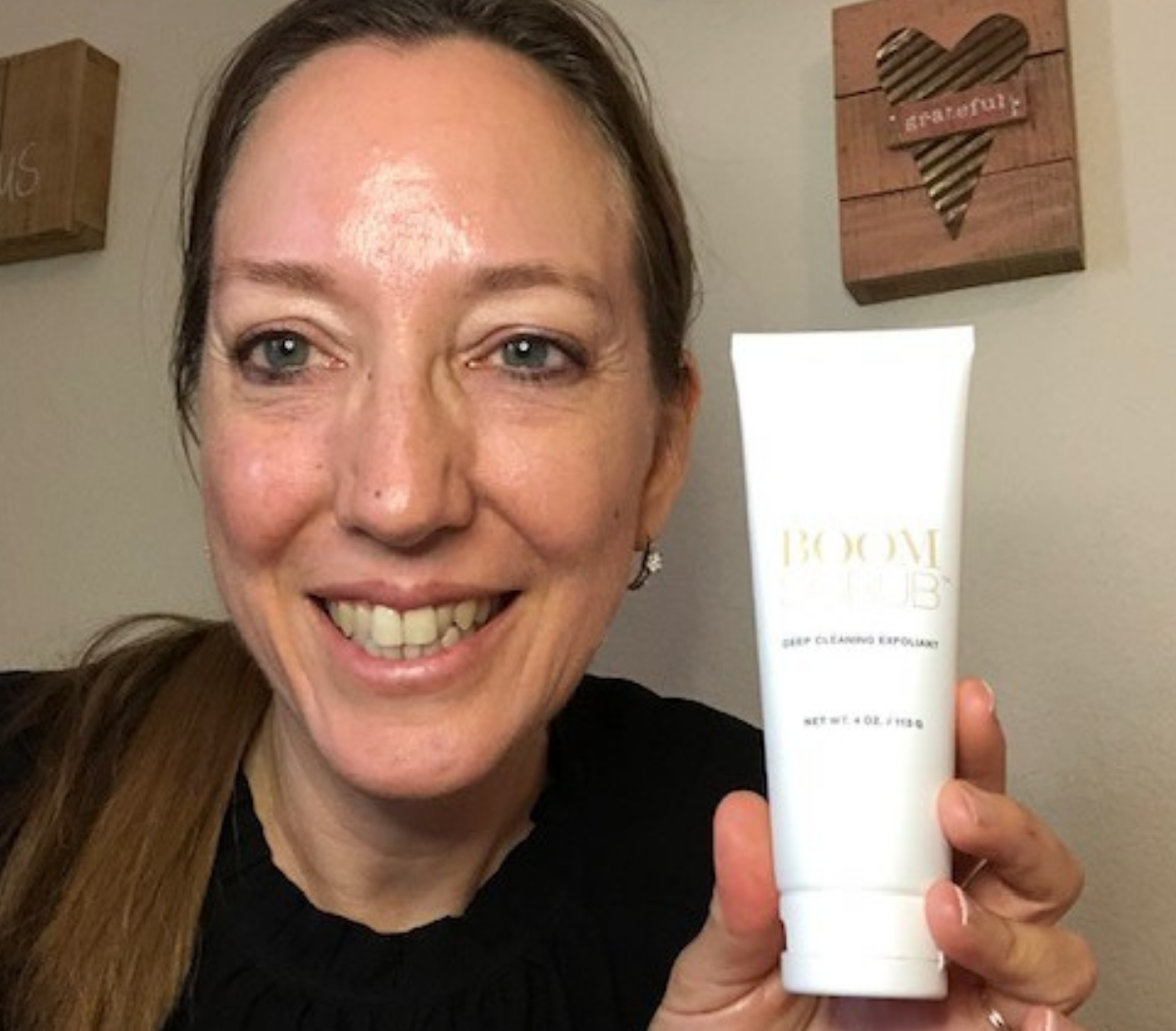 Our gentle daily exfoliant removes buildup while it clears your pores, leaving fresher skin with a radiant glow.
Unlike harsh scrubs that cause microtears and abrasions, Boom Scrub's formula is gentle enough to use every day, even on sensitive skin. 
Cambria massages just a small amount of Boom Scrub into her skin, waits anywhere from two to 15 minutes, then uses her washcloth to rinse it away. She's left with cleaner, softer skin she can actually feel. 
"I love how Boom simplifies my getting-ready routine while also feeling good about myself."—Cambria Hunter
3. Moisturize with our rich serum
Now that her skin is clean and refreshed, Cambria applies a serum packed with natural sources of vitamins, minerals and emollients—Boom Nectar™.
Made with 16 all-natural, nourishing ingredients, Boom Nectar gives your skin everything it needs to look and feel its best. Enjoy softer, more luminous skin with every application.
Cambria applies a few drops of Boom Nectar to her face, a couple more to her neck, and her skin instantly feels hydrated and looks radiant.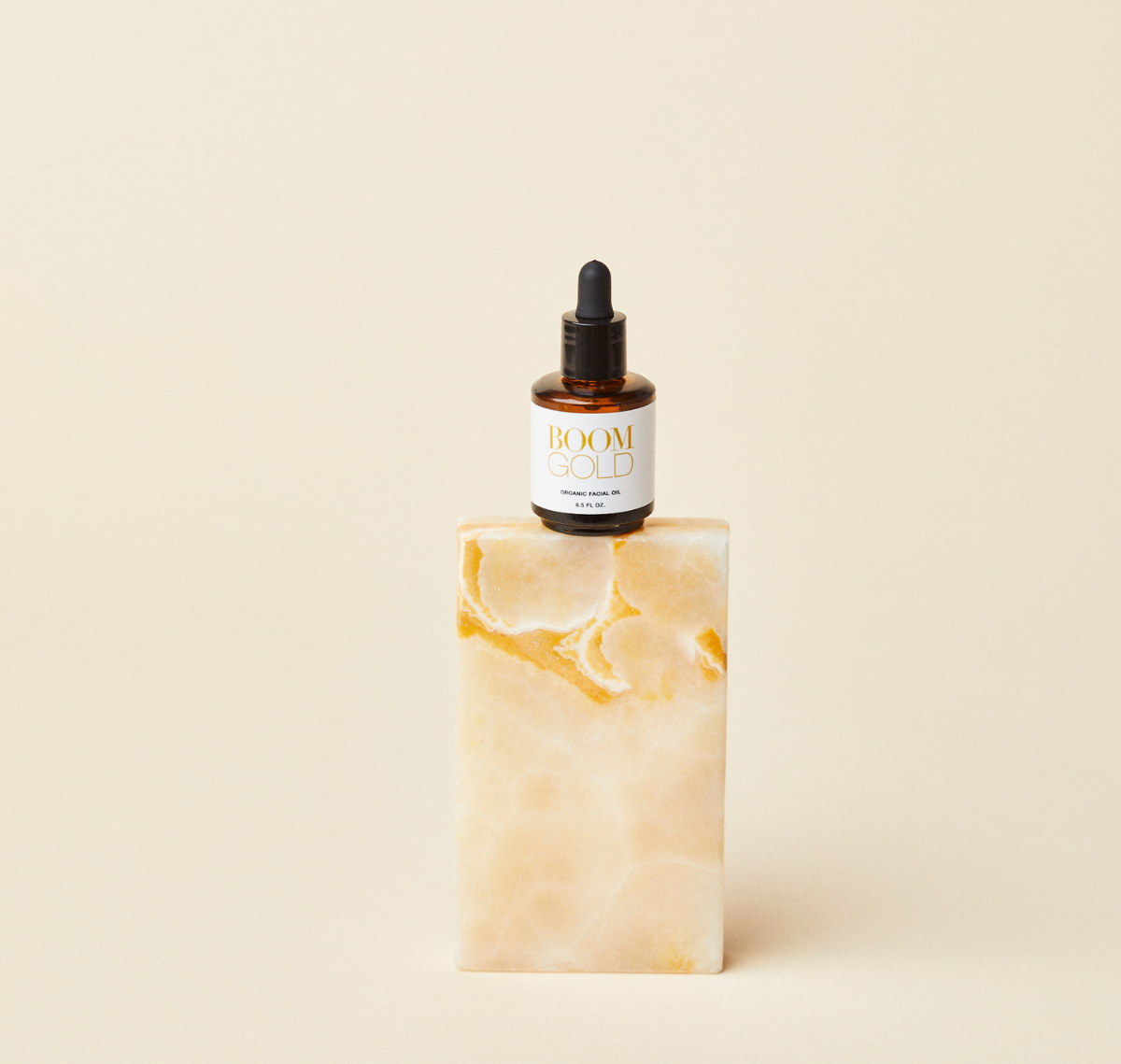 4. The final touch—luxury & rejuvenation
Cambria wraps up her nightly routine with Boom Gold™ facial oil. Containing organic essential oils that infuse her skin with protective botanicals, our lightweight oil provides an extra moisture boost when her skin needs it. 
Cambria says, "I like to use a little Boom Gold, especially at night. Sometimes I use it during the day too, if my skin is a little dry. I work in healthcare so I have to wear a mask—which tends to dry out my face—so I like the extra moisture that Boom Gold gives."
As Cambria points out, a little Boom Gold goes a long way. "Just two or three drops covers your whole face and neck," she says.
As Cambria points out, a little Boom Gold goes a long way. "Just two or three drops covers your whole face and neck," she says. 
Don't let the word "oil" fool you… Boom Gold leaves no sticky or greasy residue—just soft, luminous skin.
With that last step, Cambria's skin is clean, soft, hydrated and nourished just in time for bed. When she wakes up, her skin will be ready for another busy day.
What do you think of Cambria's skin-care regimen? Do you do anything different in your nighttime routine? If so, tell us about it below.
CHECK OUT OUR MOST POPULAR CONTENT