Boomsilk: Everything You Need To Know
About Our "Everything Moisturizer"
Boomsilk: Everything You
Need To Know About Our
"Everything Moisturizer"
If you think about it, we're constantly being told to use new creams, lotions and moisturizers. They tell us we need separate moisturizers for daytime, overnight, feet, hands, body, eyes...even elbows!
Cindy designed Boomsilk®, our "everything" moisturizer, in response to the number of different products we're expected to use on our bodies on a daily basis. 
The list goes on, with new "miracle" ingredients being introduced all the time, adding up to one idea: anti-aging. 
However, outside of products prescribed by a dermatologist that address specific issues, do we really need all of these?
Especially when so many of them contain all kinds of added ingredients and preservatives?
Here at BOOM!, we say you only have one body…no reason you can't use one product. 
Read on for our answers to the most common questions about our #1 pro-age moisturizer, Boomsilk.
Where and when should I use it?
We love this question because there is virtually no wrong answer. 
Morning. Overnight. Around your eyes and mouth. On those dry cuticles, heels and elbows. After a bath or a day at the beach. On rough hands after gardening. For travel, work, the gym. Keep it on your bedside table and in your purse.
One Boom Ambassador uses a little in her hair—under her swim cap!
The possibilities are endless.  
Will Boomsilk work for my skin?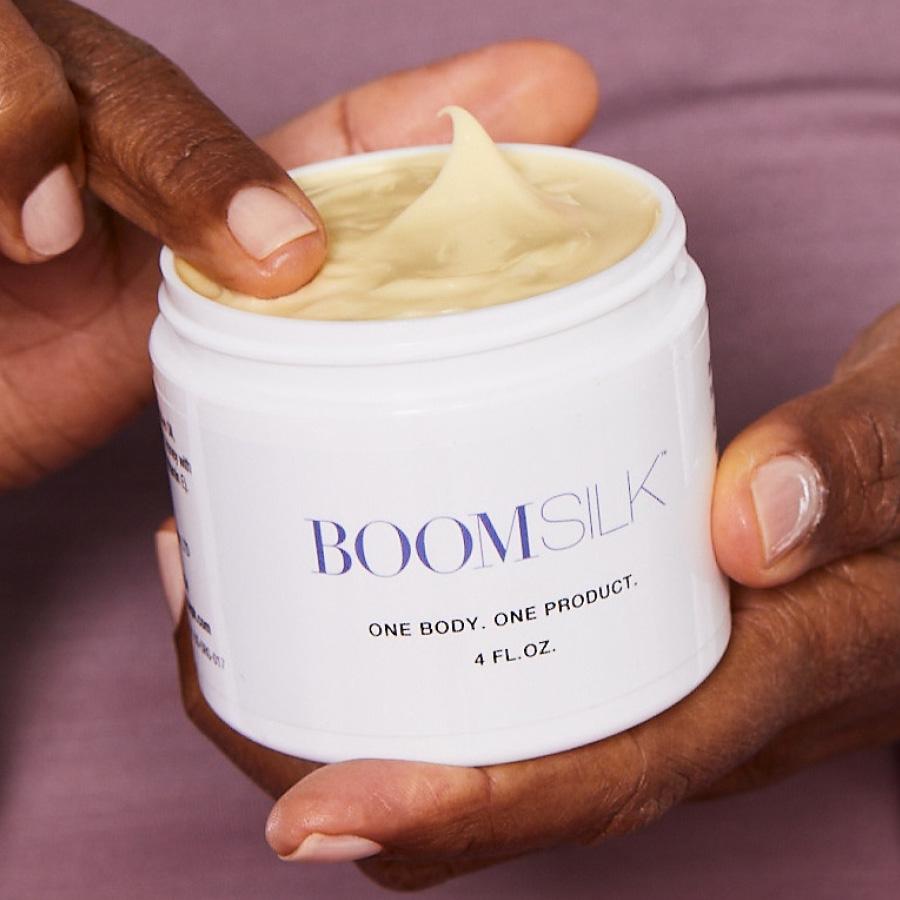 We designed Boomsilk specifically for these skin types: Dry. Extra-dry. Balanced. Sensitive. Combination. Oily. (Did we miss any?)
In other words: ALL skin types. 
Boomsilk's luscious organic formula contains just five ingredients for a reason. The simplicity of using tried-and-true ingredients from nature makes Boomsilk the ideal moisturizer to soothe, protect and soften a wide range of skin types. 
This also makes Boomsilk a great choice for your skin as you age:
You can use it on any skin type…

You can use it anywhere on your body…

It's a cost-effective multitasker…

A little goes a long way…

It comes in three convenient sizes, including a 2 oz TSA-friendly size…

It's made with soothing, organic ingredients…



Sounds like the perfect moisturizer, doesn't it?
What's in it?
Speaking of ingredients, we chose each aspect of this hypoallergenic formula for its beautiful benefits.
Organic honey and beeswax: Soothing and calming, these bee-produced ingredients are packed with natural antioxidants and have been used in skincare for centuries. They work together to attract moisture to your skin while preventing loss of the moisture it already has. 
Beeswax: It also acts as a natural breathable barrier, which can protect your skin from potentially harmful air pollutants. 
Organic extra virgin olive oil: From providing moisture to additional antioxidant activity, this powerful multitasker helps even sensitive skin look and feel healthy and glowing.
Vitamin E: This soothes skin to reduce the look of irritation or temporary redness. It also helps to revive skin that's been exposed to day-to-day environmental stressors.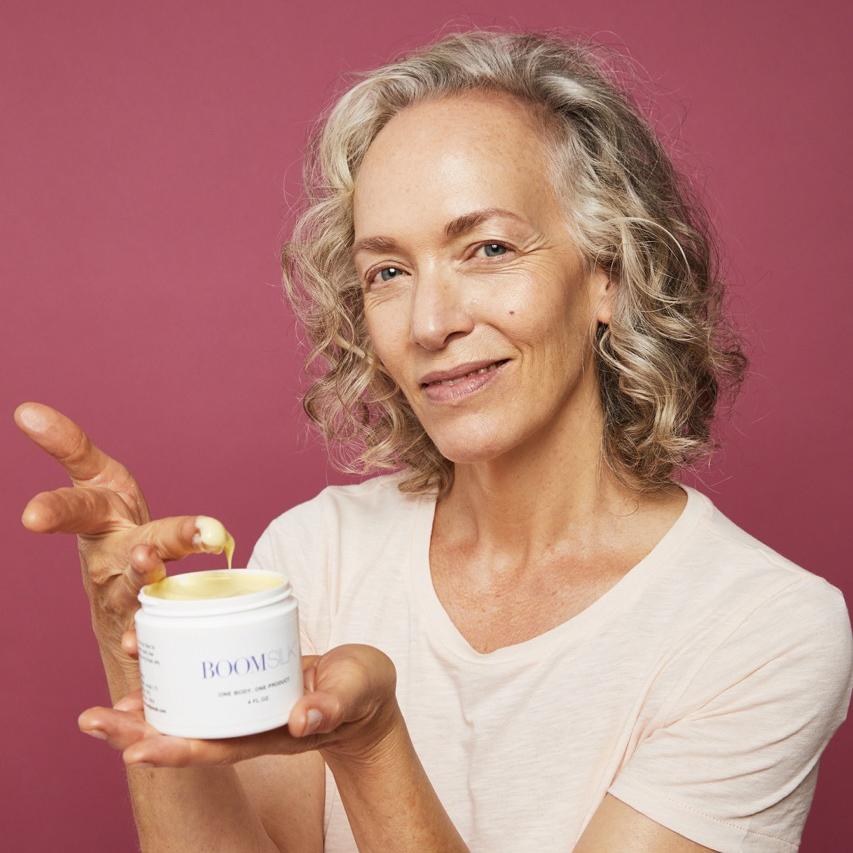 What's the difference between Boomsilk and Boom Cotton?
Boomsilk isn't the only full-body, organic moisturizer at BOOM! 
Over the years, customers have asked us what sets Boomsilk apart from our other moisturizers, like Boom Cotton®. 
Boomsilk and Boom Cotton are both designed to nourish and soften your skin, create a natural barrier from outside pollutants and moisturize your entire body.
The main differences between Boomsilk and Boom Cotton are their ingredients and how your skin looks when you use each moisturizer.
Boomsilk contains extra virgin olive oil—along with other all-natural ingredients—so it leaves your skin with a silky, dewy finish. Boom Cotton contains shea butter and other organic ingredients and leaves your skin with a shine-free, matte finish. 
What's the difference between Boomsilk and Boomstick Glo?
These two wonderful moisturizers share nourishing organic ingredients and can be viewed as the same product in two different forms. 
Boomstick Glo® contains just three ingredients: organic extra virgin olive oil, organic beeswax and organic honey. Boomsilk contains these three plus water and natural vitamin E.
As a cream, Boomsilk can replace any other moisturizers or lotions taking up space in your bathroom. Smooth this luscious cream from head to toe to keep every inch hydrated, protected and glowing every day.
No matter where your day takes you, Boomstick Glo is your go-to moisturizer on the go! With all the benefits of these powerful ingredients in an easy-to-carry stick, TLC for your skin is always within arm's reach. 
Is Boomsilk scented? 
To keep this moisturizer ultra-gentle, Boomsilk contains zero essential oils, added fragrance, binders or emulsifiers. 
What ISN'T inside Boomsilk is exactly what makes it different from other moisturizers and creams. You might notice your Boomsilk varies in color from time to time.
That's because we use organic, bee-produced ingredients to create this moisturizer, which vary based on the flowers our bees are pollinating! 
Boomsilk may vary a bit in scent or color from batch to batch. In some batches, the ingredients may even separate a little bit (that's the nature of oil and water!).
This is totally normal, expected—and easily remedied by stirring the formula with a clean utensil to reintegrate the ingredients. 
Even if Boomsilk's natural, neutral scent and consistency vary slightly, our original formula remains the same.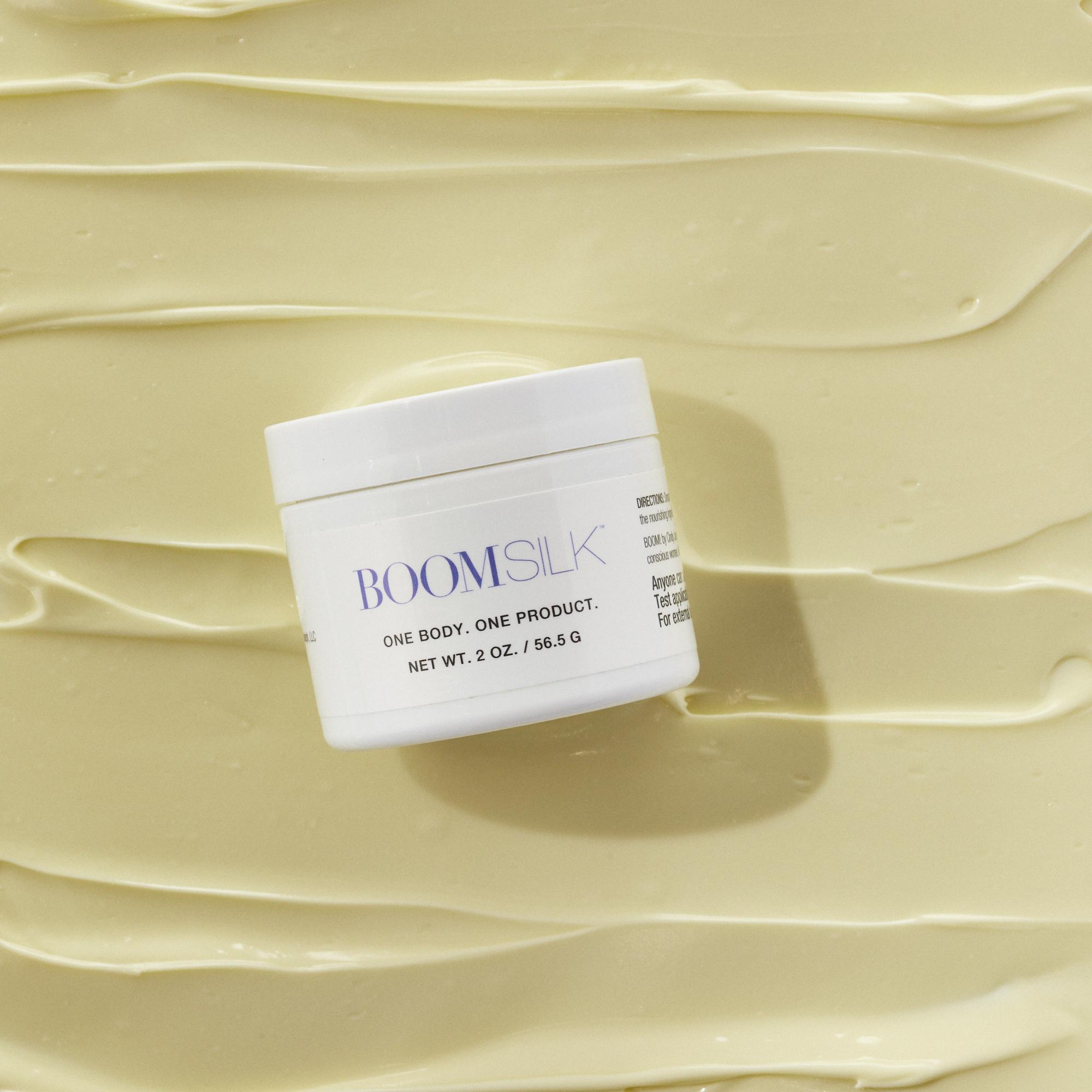 Each jar of Boomsilk provides soothing hydration, protection and beautifully glowing skin.
Is it noncomedogenic?
When researching ingredients for our formulas, we consider each ingredient's "comedogenic (pore-clogging) rating."
While we do not perform official comedogenic tests on our products, we find that the ingredients used within Boomsilk (and most of our formulas) have a very low comedogenic score. 
Based upon the feedback from our internal testing groups as well as customers, we find that Boomsilk does not clog pores or cause breakouts. 
Does Boomsilk contain SPF?
Boomsilk does not contain SPF but is compatible with your preferred sunscreen. We recommend moisturizing with Boomsilk first, then allowing ample time for absorption prior to applying an SPF product.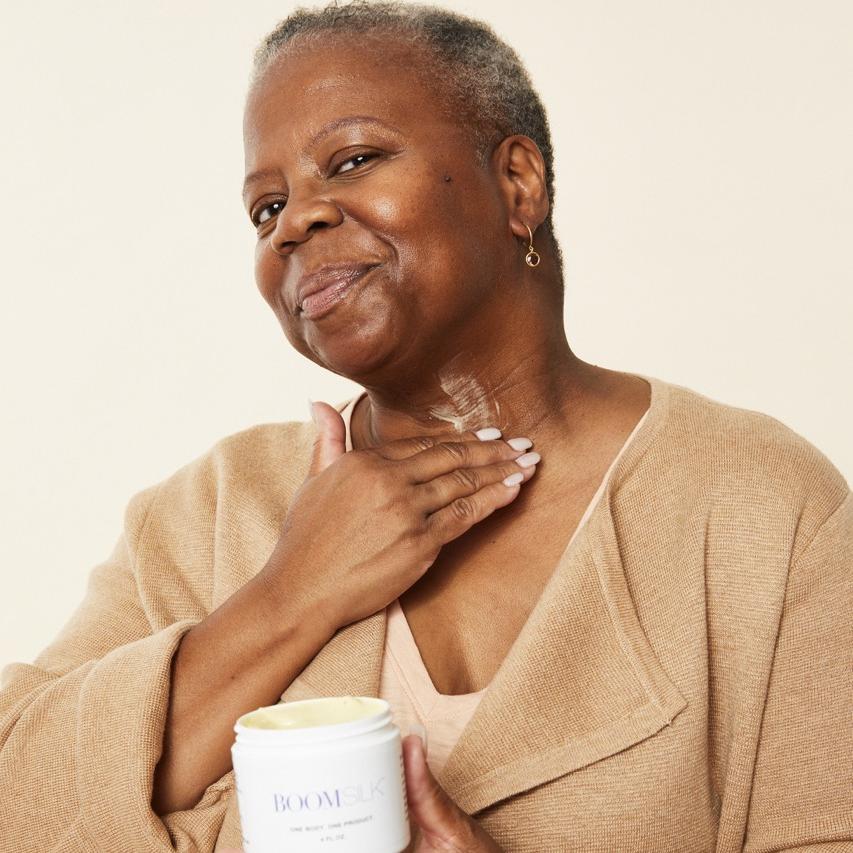 What's the shelf life?
Boomsilk is a natural, organic product without added preservatives.
Unopened, Boomsilk has a 12-month shelf life. Once open, its PAO (period after opening) is six months. 
Always use clean fingers or utensils to dispense Boomsilk to ensure freshness. 
Will Boomsilk reduce wrinkles?
Even as a pro-age company, we still get this question—a lot. The anti-aging social conditioning we receive reaches us loud and deep. 
Boomsilk does not target wrinkles.
We didn't design it to tighten or plump or fill. Instead, Boomsilk takes exquisite care of your skin at every age, providing moisture and protection for the healthiest-looking you.
Rather than defining beauty according to standards outside of ourselves, Cindy Joseph encouraged us to let go of trying to change wrinkles and to recognize that beauty is the character in our own unique faces.
"Nature keeps being nature, and gravity keeps being gravity, and our bodies keep being our bodies," Cindy said.  "Do you know what we really do have control over? We control what we think and what we feel about ourselves. I can think of it as 'accepting' my skin's aging process, and 'putting up with it.' Or, I can choose to think about it as celebrating my age, cheering it on, finding the things I love about it. I have a choice to pay attention to those things. I can dance about it, sing about it, drink it in, and look forward to the next wrinkle and the next silver hair. I can cultivate that mindset. That is something I can actually control. When I do that, my joy grows on the inside, and it radiates on the outside."
Cindy originally designed Boomsilk moisturizer to help you do just that.
Got another Boomsilk question? Drop it in the comments and we'll answer it!
CHECK OUT OUR MOST POPULAR CONTENT