Boom Cares: Natural Resources Sustainability 
Boom Cares:
Natural Resources
Sustainability 
Overharvesting, also known as overexploitation, occurs when too much of a natural resource is taken with no plans to replace it. This practice causes diminishing returns and has historically led to species extinction.

As a brand committed to a sustainable global supply chain, we care deeply about the social, environmental and economic implications of the precious ingredients we source.
Today, we spotlight three ethically sourced ingredients governed by organizations that support global sustainability initiatives, consider the future of the resource and make our product line extra special.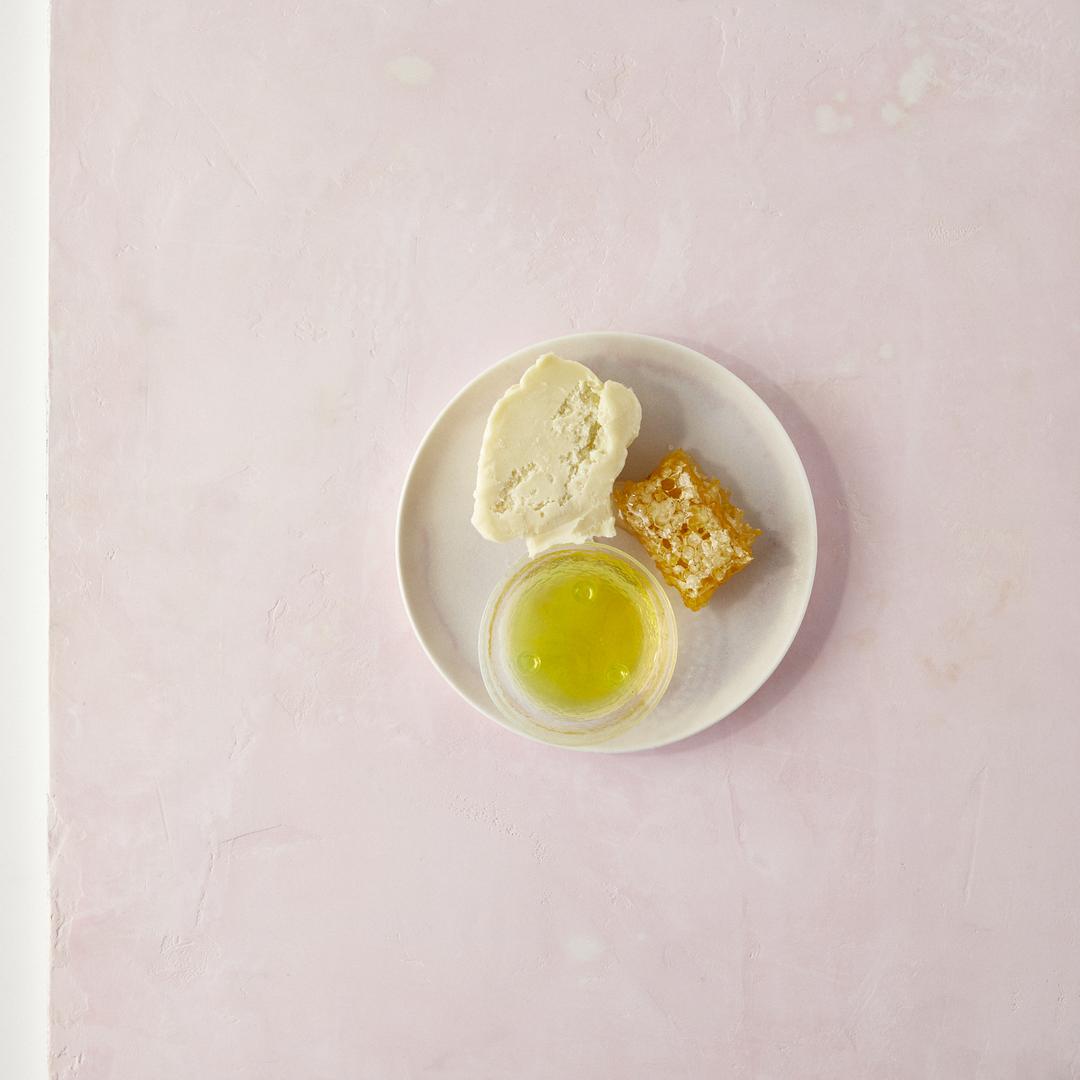 1. Shea Butter
Shea butter is made from fat extracted from the nuts of the shea tree (Vitellaria paradoxa) native to Central Africa. 
Rich in antioxidants, fatty acids and incredible moisturizing power, it has been used in skincare dating as far back as ancient Egypt. 

As shea butter is used throughout industries, from skincare and cosmetics to culinary and chocolate making, the global demand for the resource has seen a significant increase over the last ten years. However, as a high-demand resource, shea's laborious harvesting and processing is directly linked to human rights violations, worker abuse and poor long-term land management, such as overexploitation.
The shea industry also faces a lack of postharvest storage space due to a shortage of facilities that can adequately perform the required step of immediate parboiling after harvest. Without proper facilities, the quality diminishes or waste of the harvest will occur.

Despite the myriad issues the shea industry faces, there are a number of groups and organizations that support an ethical and sustainable supply chain with the all-encompassing efforts of building communities, women's empowerment, long-term land management and environmentally conscious shea processing practices. 
The shea butter used within our Boom Cotton® moisturizer is certified under the Global Shea Alliance (GSA).
We are proud to support the initiatives of the GSA as they ensure the integrity of the ingredient, including the ability to provide traceability and provenance. Additionally, by having a supplier relation that also cares about social investment, we know that shea butter coming from the GSA directly supports local economies and communities throughout Africa.

Harvesting and processing shea is an industry dominated by African women and, as a brand, it is important that we care for the livelihoods of all women throughout the world.
For African shea-producing communities, the industry provides a critical source of income for more than 16 million women. Since our shea butter is part of the GSA, we know that it directly helps these women earn their fair share and provides them with access to storage infrastructure that enables them to sell to larger buyers.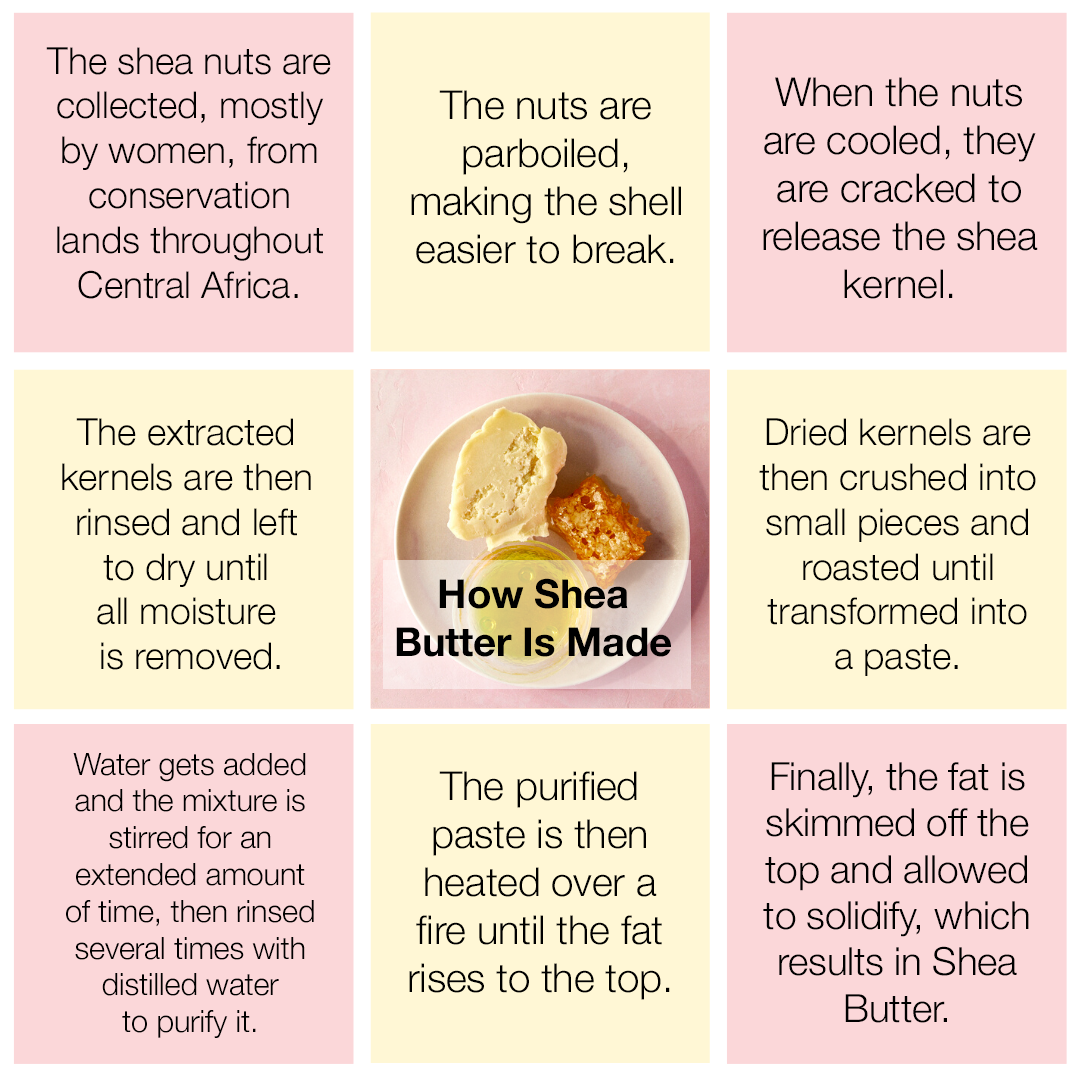 2. Sandalwood Essential Oil
Organic sandalwood essential oil contributes largely to the undeniably luxurious scent profile that Boom Gold™, our lightweight facial oil, imparts.
Historical evidence suggests that sandalwood has been used for over 3,000 years in the Far East.
Accounts of its use were reported as early as 500 BCE and its range from medicinal to spiritual to cosmetic uses were reported by Egyptians, Buddhists, Tibetans and Ayurvedic practitioners alike.
By the 16th century, because of global trade routes, the prized ingredient also became sought after in the West.
Today, the modern use of sandalwood has grown significantly.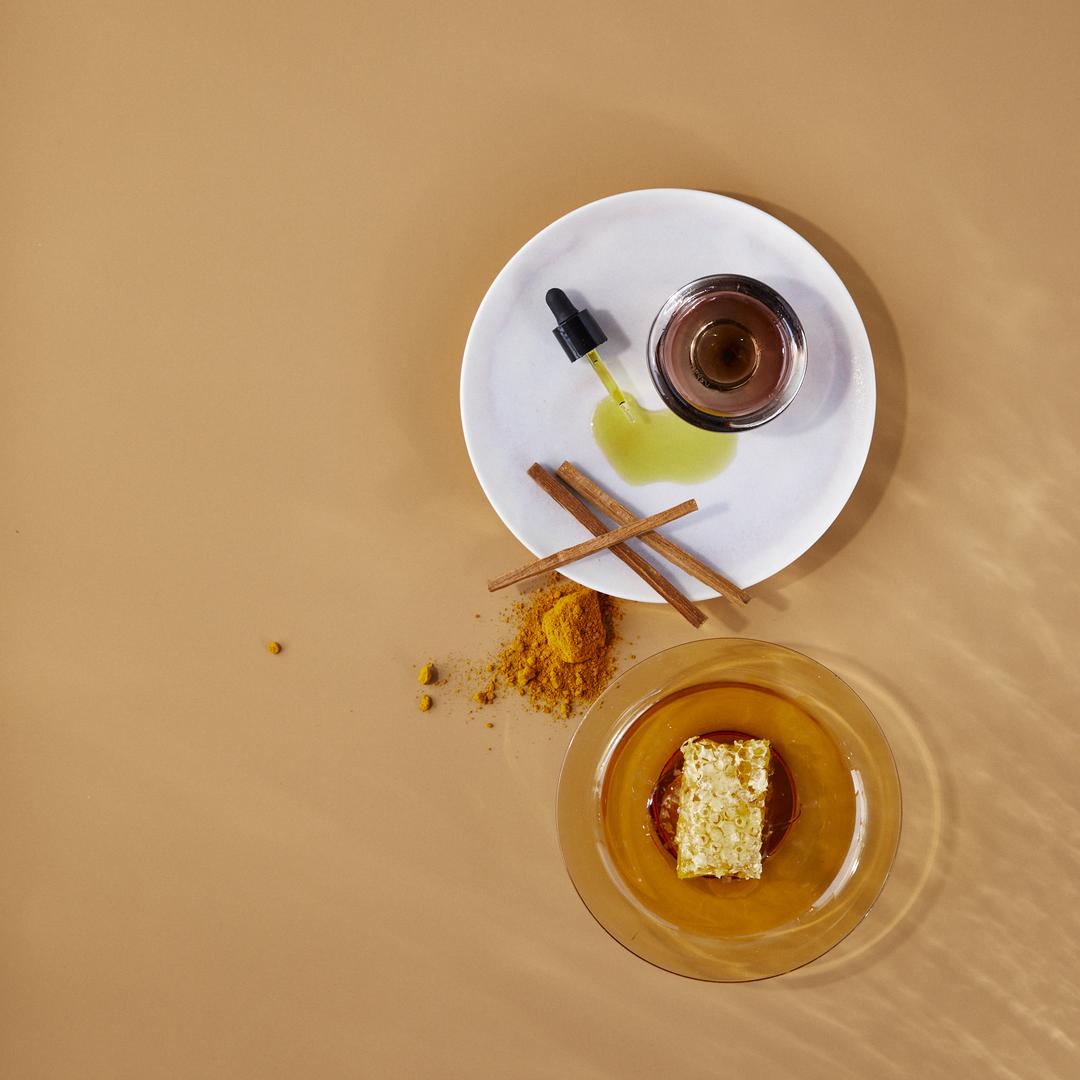 With a constant increase in demand, sandalwood has also increased in value.
Like many high-value resources, there has been a steady decline in native sandalwood trees (​​Santalum Austrocaledonicum) due to overharvesting.
To add complexity to the resource's availability, the sandalwood tree has unique survival criteria.
Unlike many trees that can survive and thrive on their own, the native desert sandalwood is a hemiparasitic tree that relies on nutrients and water from surrounding host trees to grow.
In order to survive, the tree stretches its roots in search of a host tree. As soon as a sandalwood tree has depleted all available host trees, it can no longer survive and will eventually die.
Here at BOOM!, we support plantation sustainability initiatives for this species to perpetuate into the future.
When choosing to add sandalwood oil to our Boom Gold formula, it was imperative that the oil harvesting was done under strict regulations to ensure longevity and regeneration of the species.
As the population of native species of sandalwood is on the decline, our supplier ensures we support regenerative plantations for oil harvest instead of wild resource.
The organic sandalwood essential oil we use is harvested in the Goldfields region of Western Australia under strict sustainability controls.

3. Witch Hazel Extract
For many, Boom Clean® has become an essential part of their daily skincare regime. We have heard from many that the uplifting scent and feel of the formula is the perfect way to start their day.
Part of the reason Boom Clean feels so refreshing on the skin is due to one very special, certified organic wild crop: witch hazel (Hamamelis virginiana). 
When you wash your face with Boom Clean, the witch hazel extract helps gently cleanse your skin without stripping its protective barrier as it works to balance your skin's natural oils.
Since it is an astringent, it makes your pores feel clean and refreshed as you rinse the product from your skin.
The witch hazel we use originates from forests in New England in the Northeastern U.S. and harvested using sustainable forestry and silvicultural practices.
To ensure best forest management practices are being utilized so the proliferation of witch hazel continues, the areas of harvest are carefully selected, managed and documented before approval by the National Organic Program (NOP).
After harvest sites are approved, the witch hazel is harvested in accordance with state forestry regulations.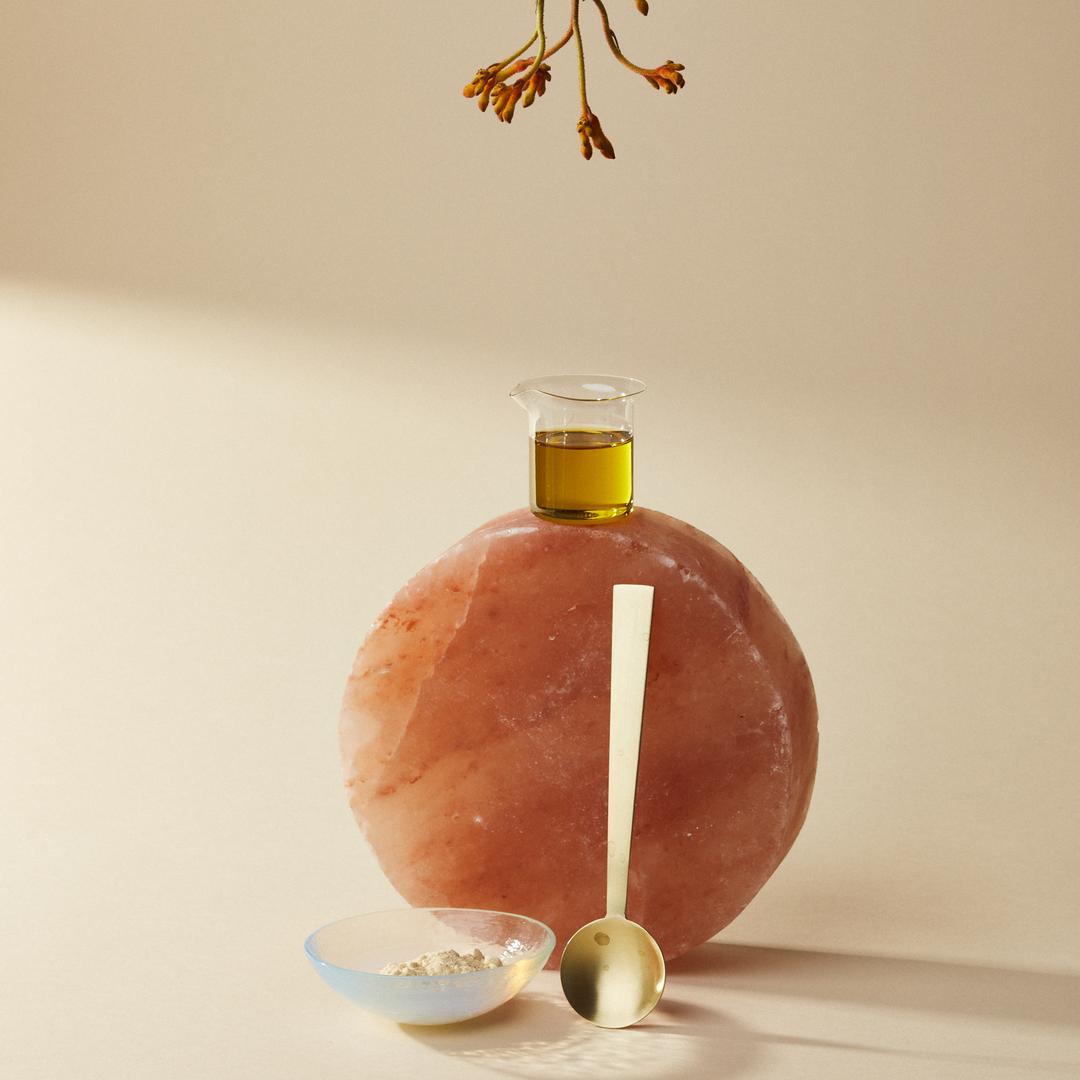 Establishing compliance with these regulations means that the overall health of the forest is protected and overharvesting witch hazel does not occur.
To further ensure best silvicultural practices, our witch hazel harvests begin in late autumn and continue throughout the winter and spring while plants are dormant and the ground is mostly frozen.
These best management techniques allow foresters machine access to the crop with minimal negative impact to the forest.
After harvest, the plants are cleaned and transferred as raw witch hazel pulp prior to distillation that creates the extract.
The entire process is waste-free as it utilizes all plant material. The processed plant material is then upcycled into natural, biodegradable landscaping mulch. 
As a company that uses globally sourced ingredients from nature, we strive to ensure that the resources we use are able to regenerate into the future.
It is up to us to support suppliers that use governing agencies or are part of specific organizations to further guarantee the harvest of ingredients we use is done so sustainably. 
CHECK OUT OUR MOST POPULAR CONTENT