Boom Ambassador Sandra Hart's 7-Step Start-to-Finish Boom Routine
Boom Ambassador Sandra Hart's 7-Step Start-to-Finish Boom Routine
Boom Ambassador Sandra Hart's
7-Step Start-to-Finish Boom Routine

Boom Ambassador Sandra Hart is leading an incredible life. 
Sandra got her start as a teacher on Romper Room. Later, she became a news anchor, journalist and published author.
Her current passion is her YouTube channel, Life Over Sixty with Sandra. 
Sandra is a powerful voice for the pro-age movement. In fact, she was pro-age before she found BOOM! 
"Throughout my life," Sandra says, "all of the women that I have really admired are ones that aged naturally, gracefully and proudly."
That's Sandra's plan for herself as well. 
In these videos, Sandra shares her thoughts on aging and her tips for using her Boom favorites to highlight her natural beauty at 81. 
1. Start with a clean face.
Sandra always starts with a clean face, courtesy of Boom Clean. 
Our facial wash gently removes dirt, pollutants and makeup without removing natural moisture or nutrients from your skin. 
2. The "little magic bottle"—Boom Gold
Next, Sandra reaches for her "little magic bottle," Boom Gold. 
Boom Gold is our organic facial oil made with honey and eight essential oils for deep natural hydration. Sandra says "it's absolutely so potent and so magic."


To use, apply just a drop or two of Boom Gold to your fingertips and dab or gently rub into your skin.
You can use Boom Gold alone or under another moisturizer with beeswax, like Boomsilk, for dewy, luminous skin that's protected from harsh weather or pollution. 


3. Nourish your skin with Boom Nectar.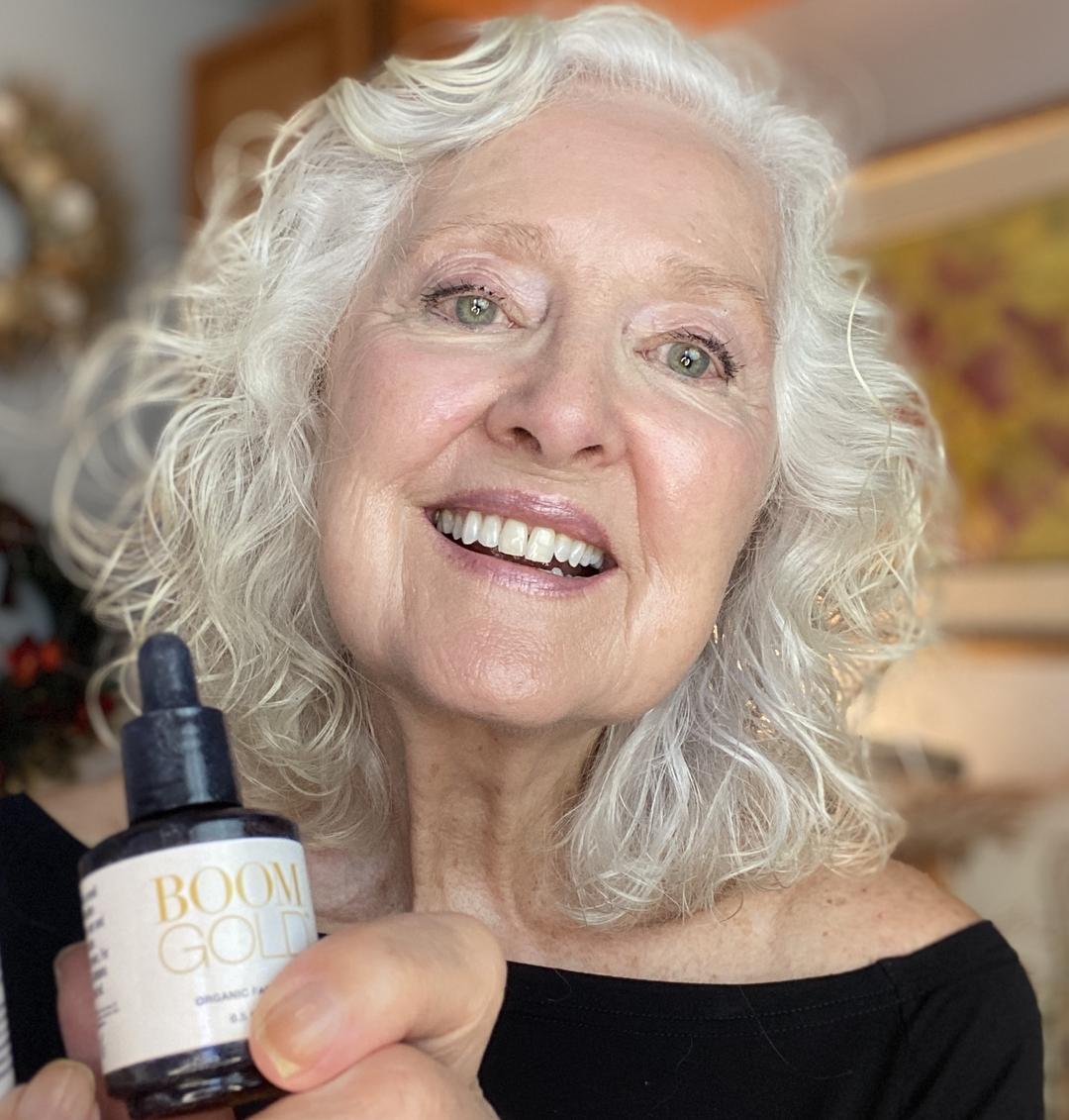 Boom Nectar is next. Containing 16 all-natural ingredients, Boom Nectar delivers deep moisture. This lightweight liquid formula is also a powerful serum.
During a recent Boom Ladies' Night, Sandra shared that she has always used serums to nourish her face, so she was delighted to try Boom Gold and Boom Nectar: "As soon as I got Boom Gold and Boom Nectar… I am in love."


Sandra says these products have "completely reinvented the way that I do my skin care."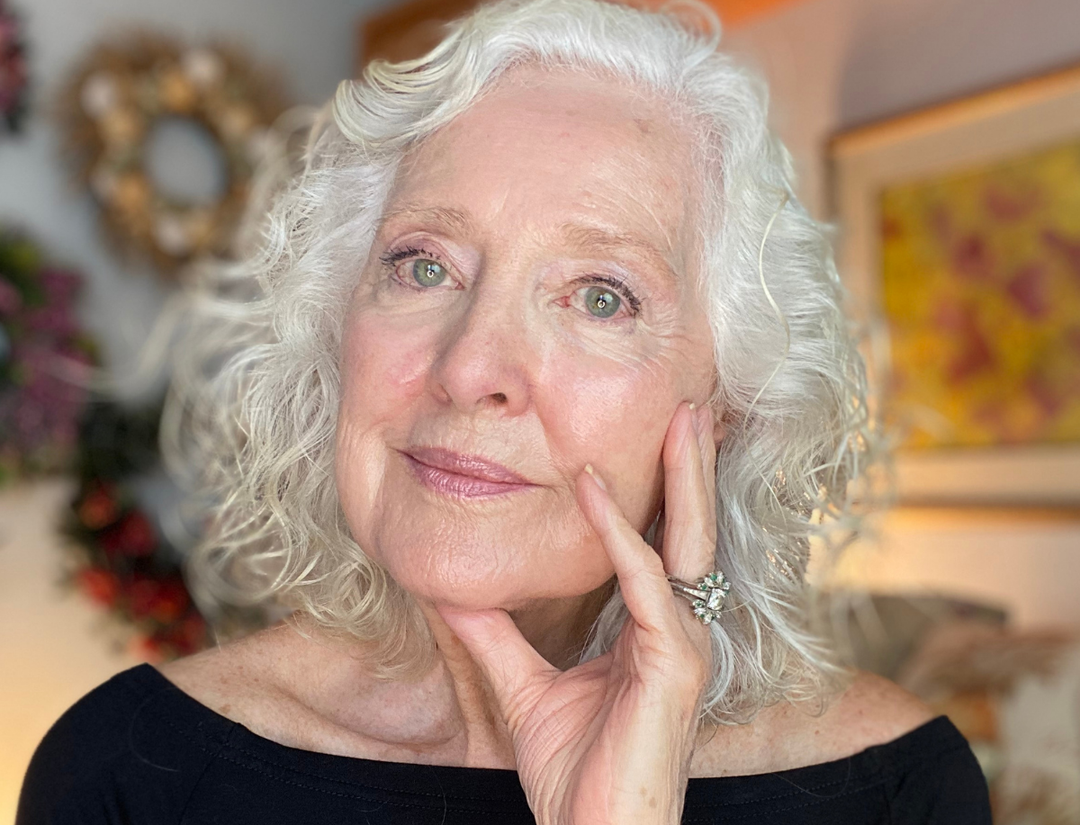 4. Touch up dry spots with Boomstick Glo.
Now it's time for the Boomstick Trio. Sandra loves these cosmetic sticks because they're convenient and easy to travel with. Carry them with you whether you're headed to work, on a walk… or somewhere more exotic.


Sandra starts with Boomstick Glo to touch up any dry spots. 
She applies it to her cheekbones, chin and forehead, then gently pats it in. 
5. Add warmth with Boomstick Color.
Next, Sandra adds a bit of warmth to her skin with Boomstick Color. 

Sandra loves that a small amount of any Boom cosmetic goes a long way. She dabs Boomstick Color onto her lips and the apples of her cheeks, then blends with her fingers for a lovely glow. 
We call Boomstick Color "the color of happiness" because it's designed to simulate the same glow a woman gets when she's happy or excited.
You can use this cosmetic stick as a blush, lipstick and bronzer.
6. The glamorous one: Boomstick Glimmer


After that, Sandra adds a bit of Boomstick Glimmer—which she calls "the glamorous one."

Sandra uses her fingers to dab a bit of this creamy, pearlescent highlighter under her brow bones and to the center of her lips "just to give a little pizazz."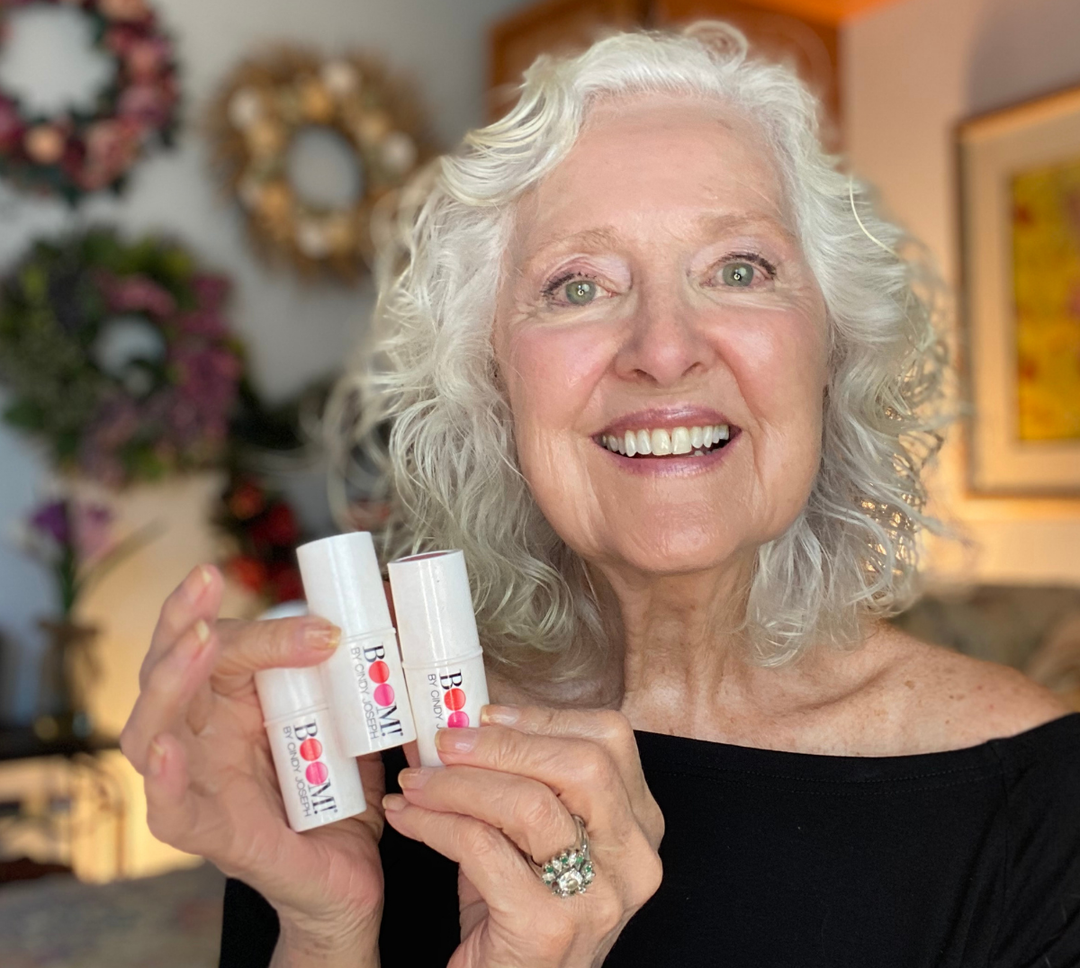 Sandra also adds a bit of Boomstick Glimmer to the hollows of her cheeks to enhance her cheekbones.
Sandra says, "That is the magic of the Boomsticks, the magic of the serums that I use. My skin is loving it too."


7. End with Boom Bright.
Finally, Sandra adds a layer or two of Boom Bright, our new mascara. 

Every aspect of Boom Bright is designed for your 50s and beyond. Wondering how?


First, it's water-based, not waterproof. As we age, our lashes thin and become prone to breakage and loss. Boom Bright removes easily with water or a moisturizer like Boomstick Glo, so you won't pull or break your lashes when you take it off.

Second, it comes in a universally flattering, soft black color that defines and highlights your eyes without looking severe or harsh. And it goes wonderfully with silver hair.

Finally, it's easily buildable… so you can add one quick layer for daytime and additional layers for an evening out or a special occasion.
Sandra loves the subtle scent and the way it brightens her eyes. She says, "It really separates my lashes. I like the feel of it. It really feels luxurious when I put it on. It's not dry, I can feel the moisture."


She also uses Boom Bright in a unique way we love… she adds the lightest touch to her brows to darken them. 
What do you think of this look?

Isn't Sandra gorgeous? Tell us… What do you think of her look? 
Have you tried Boom Bright yet? If so, what do you think?
If you'd like to hear more from Sandra, she appeared on Boom Ladies' Night to share her Boom favorites and her thoughts on Cindy Joseph and the pro-age movement.
CHECK OUT OUR MOST POPULAR CONTENT