How Sally's Skincare Reveals Her Authentic Beauty

How Sally's 
Skincare
Reveals 
Her
Authentic Beauty
Boom Ambassador Sally Kiser is enjoying life as a school nurse in the U.S. Virgin Islands. 
In addition to embracing the slower pace of island life, this 57-year-old has also adopted a pro-age mindset—and Boom products that support her desire to shine from the inside out.
Sally says, "What I love about Boom products is really how they make me feel. They make me feel that I'm putting something natural on my skin, that I'm taking care of my body and my skin to promote the best version of myself."
But Boom is just a part of Sally's pro-age lifestyle. She also recently made the decision to embrace her natural hair—another major step on her pro-age journey. 
In this video, Sally shares the daily skincare regimen she uses, morning and night, to keep her skin clean, soft, hydrated and feeling amazing.
1. "Boom Scrub has wonderful ingredients."
The first Boom that Sally shares with us is Boom Scrub™, our gentle daily exfoliant. 
Sally says, "Boom Scrub has wonderful ingredients. It has argan oil, jojoba oil, it's got grapefruit extract in it. It really makes your skin feel wonderful."
Boom Scrub gently exfoliates your skin while it deep cleans your pores. Just massage a dime-size amount into the skin of your face, neck and décolletage and let it sit for about five minutes before rinsing.
As Sally points out, you can use Boom Scrub a couple of times per week or every day for silky smooth and deeply refreshed skin. 
2. "Boom Clean invigorates the skin…"
Next, Sally demonstrates Boom Clean®.
This gentle cleanser was formulated to remove dirt, makeup, pollution and other impurities without stripping your skin of moisture. 

In fact, Boom Clean contains three different skin conditioners to ensure your skin is left clean and soft—never dry. 
Sally washes with Boom Clean morning and night. She says, "The smell of the grapefruit…it's just amazing. And it foams up so nicely."
She uses Boom Clean to cleanse her face and neck and then uses a warm, wet washcloth to wipe it away. 
"I feel wonderful already. It just invigorates the skin, tones it, and the citrus scent is just amazing, amazing," she says.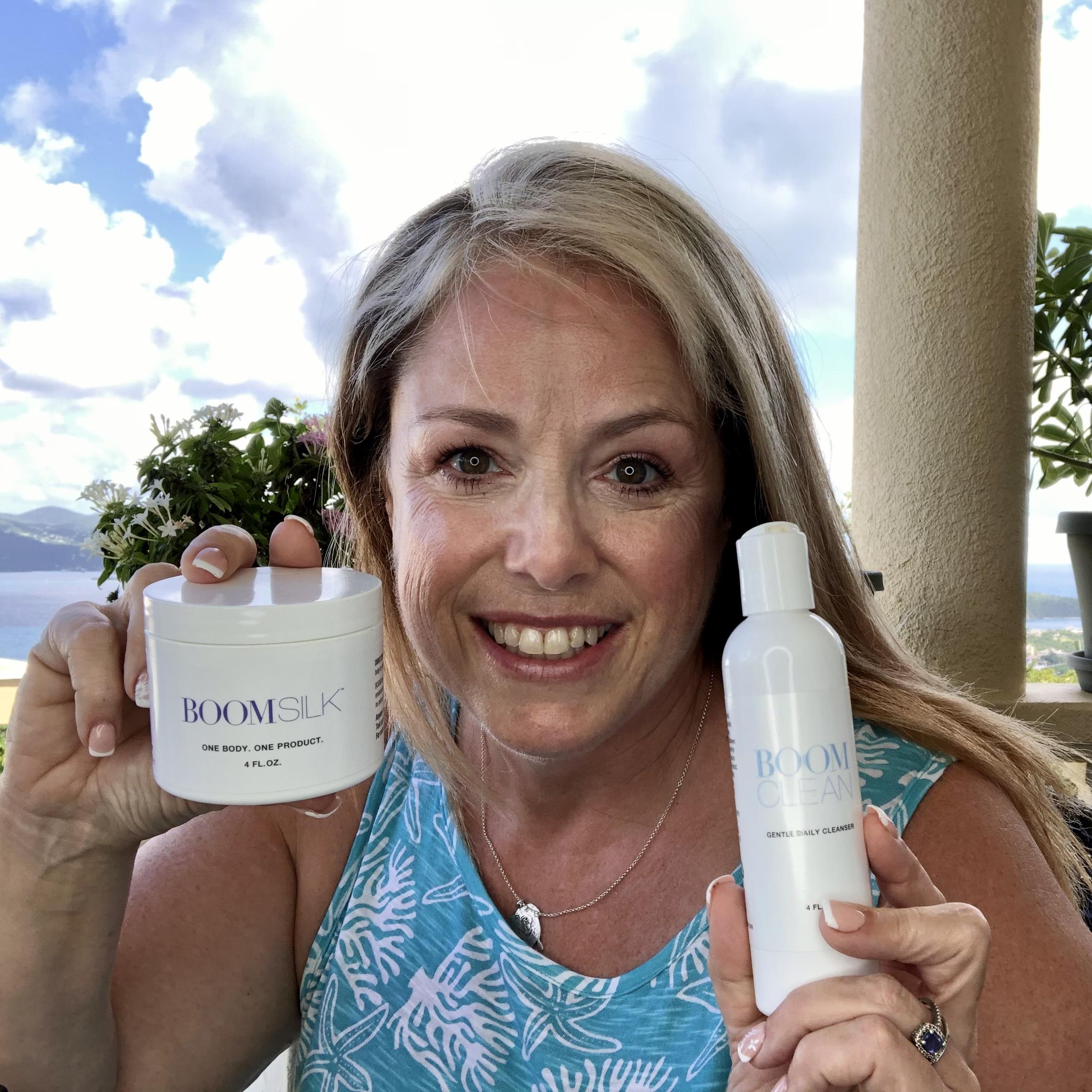 3. "Boomsilk looks as amazing as it feels."
Sally's next step is to moisturize her skin with our soothing all-natural moisturizer, Boomsilk®. 
"This is a moisturizer that just looks as amazing as it feels," Sally says. "It's amazing. It looks like butter and it goes on like silk."
Made with organic olive oil, beeswax and honey, Boomsilk can be used anywhere on your body, head to toe, to soothe and soften dry skin.
Sally uses this rich moisturizer on her face, arms and legs. "It's really for your whole body," she adds.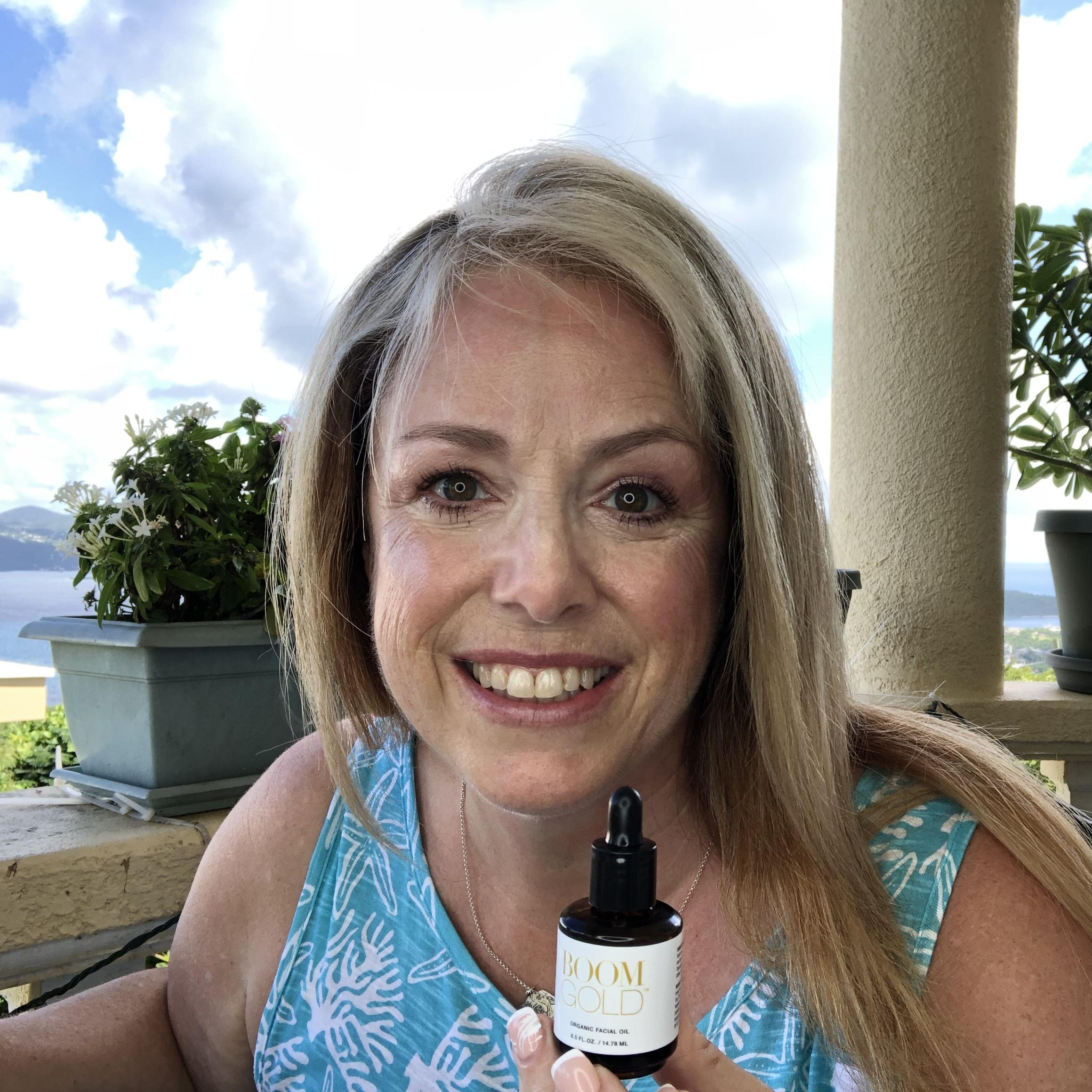 4. "I feel like I'm just full of dew and glowing."
After Boomsilk, Sally likes to apply our robust, moisturizing serum, Boom Nectar®. "It comes out and it looks like honey because there's honey in it," she says. 
Boom Nectar does contain honey, as well as 15 other all-natural ingredients, including lemon, orange and ylang-ylang oils, to soothe, brighten, nourish and rehydrate dry skin. 
Sally applies Boom Nectar around her eyes and mouth, on her cheeks and forehead—anywhere she needs additional moisture. "It feels amazing," Sally adds. "I feel like I'm just full of dew and glowing. And that's really what I want to achieve."
5. "Boom Gold has beautiful oils…"
Last, but certainly not least, Sally applies a bit of Boom Gold™, our luxurious facial oil. 
Made with venerated ingredients like organic grape seed oil and organic helichrysum essential oil used in ancient Greece, and organic frankincense essential oil used in China and the Indian subcontinent since at least 500 BCE, Boom Gold nurtures and hydrates your skin with every application.
"You only really need just a couple of drops," Sally says, as she dabs this luscious oil around the outside of her eyes, above her brows and around her mouth. "You can do this at night and in the morning, whenever you need it."
With that last step, Sally's skin is dewy and soft. The glowing look she's created is 100% authentic. 
Sally says, "I want to embrace my own authentic self. I want my beauty to come out, and Boom helps me do just that."
We completely agree.
What do you think of Sally's skincare tips? Does your skincare routine make you feel like you are caring for your skin and body? Tell us in the comments below. 
CHECK OUT OUR MOST POPULAR CONTENT