Revolutionary Makeup: Karen Klumpp's Trio Demo

Revolutionary Makeup:
Karen Klumpp's
Trio Demo

Today's Boom Ambassador is Karen Klumpp—mom of seven, grandmother to five and educator at an international school.
Karen has weathered some big changes of late, including a sudden move back to the U.S. after spending years abroad in Asia. 
One of the changes she's excited about is discovering Boom makeup and skin care and Cindy Joseph's pro-age message. She says, "BOOM! has completely revolutionized the way I think, the way I feel and the good things that I do."
With 60 around the corner, she's ready to embrace herself and change how she feels about being 58. She stopped dying her hair recently and is loving the way it looks now.  
In today's video, Karen demonstrates how she uses the Boomstick Trio to reveal her natural beauty and achieve her lovely glow. 
"My skin just drinks it in."
Karen's daily makeup begins and ends with the Boomstick Trio. "In three easy steps I can go from a blank slate to a completely done look," she says.
She starts with Boomstick Glo, our moisturizing stick. Boomstick Glo contains the same all-natural ingredients as Boomsilk, another of Karen's favorites. 

"My skin just drinks it in," she says about Boomsilk. "It is smooth. It smells fantastic."

Boomstick Glo and Boomsilk are made with organic olive oil, beeswax with propolis and pollen and honey with royal jelly. These sustainably harvested ingredients hydrate your skin and give it a silky smooth texture. 
Karen uses Boomstick Glo all over her face and neck.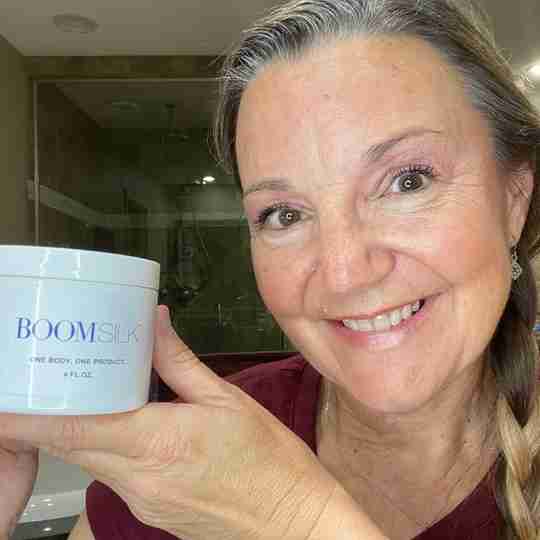 I am completely head-over-heels now for the BOOM! products! Feeling "comfortable in my skin" and embracing the way my face is aging has never felt so freeing.


"Magic in a stick."
Karen's next step is to apply Boomstick Color. "It is what I call magic in a stick. It is fabulous," Karen says. 
Boomstick Color is a multitasking cosmetic stick that you can use as blush, bronzer and lipstick. "It looks a little dark but don't let that scare you," Karen says.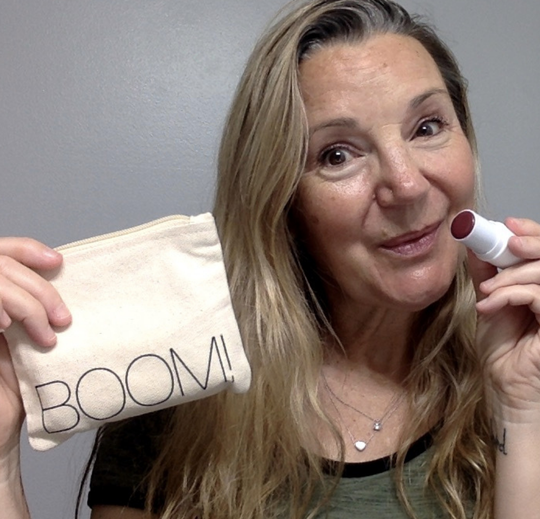 That's because the rich berry tint of Boomstick Color is sheer, which allows your natural skin tone to shine through. This customizes the color for every woman so it looks natural on every skin tone—from fair to deep-toned skin and everything in between.


Karen applies Boomstick Color on her forehead and cheeks and blends it back to her hairline. Then she adds it to her nose and neck. "It just gives you fantastic color and it feels wonderful," Karen adds.
We call Boomstick Color "the color of happiness" because it mimics the look of a happy blush. Add it anywhere you normally get color when you flush to give your skin a warm glow.
Karen adds, "It just glides on. Such ease. Simple, that's what I'm going for: simple."
After seeing BOOM! on Facebook, I thought I'd give it a try. Oh, my. It's beyond my expectations in every way! Super easy and I feel so naturally beautiful wearing it.


"A little bit of sparkle."
Karen's final cosmetic is Boomstick Glimmer. "It has a beautiful sheen," she says. "A little bit of sparkle."
This pearlescent highlighter adds a subtle touch of radiance to your skin. Karen adds it to her cheeks, brow bone and lips. She also uses her finger to layer it over the inside corner of her eyelid. That's a tip she got from her daughter.
"Look at that," she says. "Isn't that beautiful?"
It certainly is. 
What do you think of Karen's Boomstick Trio tips? 
CHECK OUT OUR MOST POPULAR CONTENT