Jane's "Natural Radiance" Boom Routine

Jane's "Natural
Radiance"
Boom Routine
Have you met this amazing Boom Ambassador? 
Jane Spelce is 69 and enjoys writing and traveling.
After a tour in the Peace Corps, Jane recently moved to North Carolina to be closer to her two adult children and their families.
Jane takes amazing care of her skin. For her, part of that is knowing exactly what's in the products she's using.
Her careful diligence pays off in her radiant glow.
In the video below, Jane shows you how she uses Boom to maintain her dewy complexion and shares the ingredients she cares about most. 
1. "Citrusy and fabulous"
"I start with Boom Clean," Jane says. "It smells citrusy and fabulous." 
Boom Clean® is our gentle daily cleanser that removes makeup, dirt and impurities without drying your skin. This facial and body wash contains three different skin-conditioning ingredients to help leave your skin feeling soft and supple. 
Boom Clean does not contain soap, dyes or perfumes—so it won't irritate sensitive skin. 
Jane says, "It removes all traces of makeup and yet it hasn't stripped my skin of its natural moisture."
This cleanser rinses off easily and doesn't leave any residue behind. You can use Boom Clean morning and night, anywhere on your body, for fresh, clean, beautiful skin.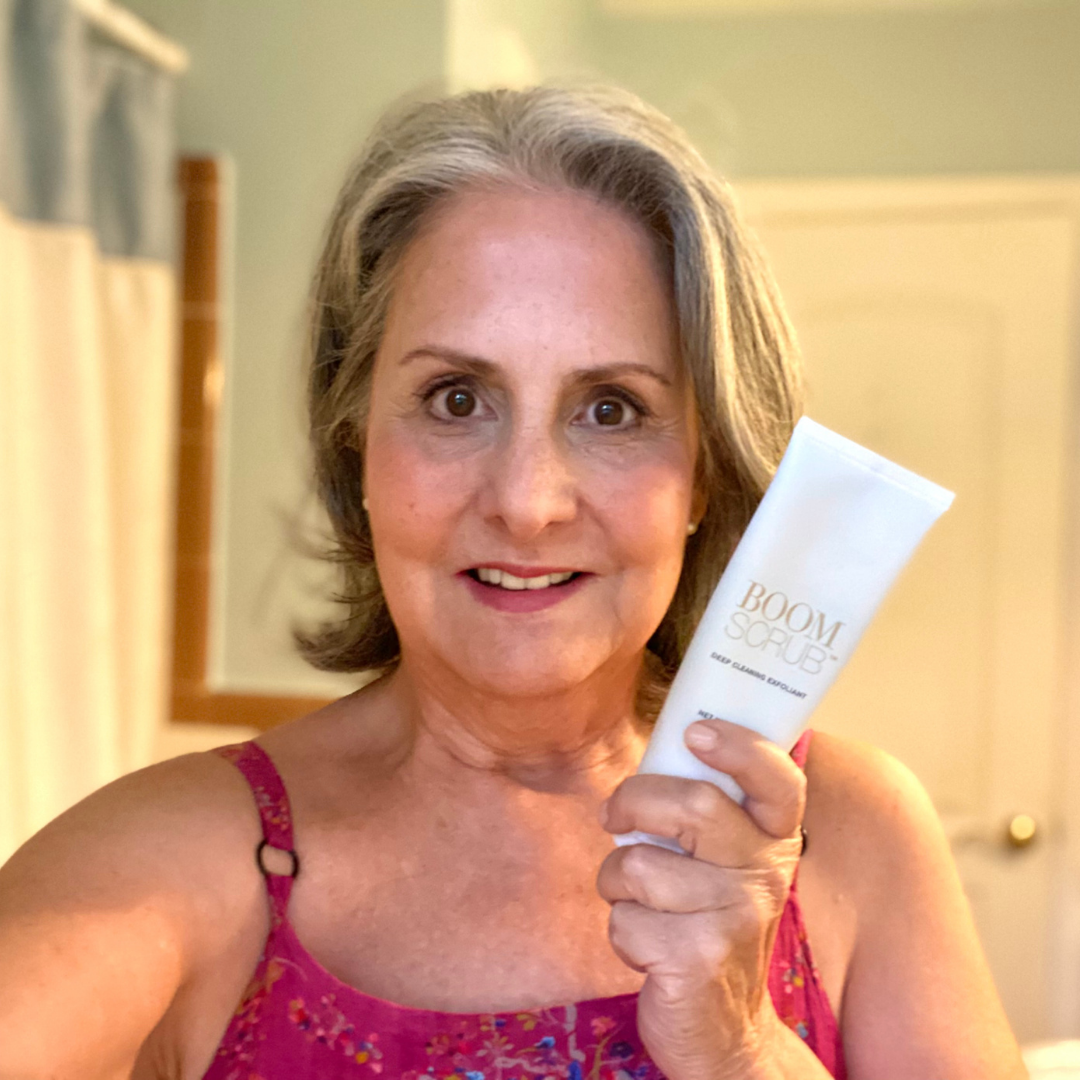 2. "So clean and so silky"


Next, Jane applies our gentle daily exfoliant designed for women over 50, Boom Scrub™. 

This deep pore cleanser uses oat kernel flour coated in jojoba esters to gently remove dead, dry skin cells without micro-tears or abrasions.
In fact, Boom Scrub is gentle enough to use every day, even on sensitive skin. Just apply Boom Scrub to your skin like a mask to reveal your freshest, softest skin. 

"I give it about five minutes," Jane says. "Then I rinse it off and my skin feels so clean and so silky."
3. "Healthy and happy" skin
Now that Jane's skin is clean and fresh, it's time to hydrate. She applies Boom Gold™, our luxurious facial oil. Jane says, "I use just a couple of drops and I apply it to my face." 


She presses it into her skin rather than rubbing it in. The lightweight formula absorbs easily and dries quickly without leaving an oily or greasy residue. 

"It has kukui nut oil, it has raspberry seed oil and it has turmeric oil," Jane says, "which are all great for keeping your skin healthy and happy."

The eight organic oils in Boom Gold are all hand-selected for skin that's supple, soft and deeply moisturized.

4. "This might be my favorite."
Jane applies our rich moisturizing serum next, Boom Nectar®, which she says "might be my favorite product."
Just one pump of Boom Nectar softens, brightens and revitalizes dry or dull skin for a glow that radiates outward. 

Jane presses this serum into her skin. As she does, she says, "Boom Nectar has 16 natural ingredients which supply intense moisture for your face. I also love the fact that it has jojoba oil in it, which is a fabulous moisturizer."
5. "It's like butter."

The last step in Jane's routine is to apply Boomsilk®, our all-natural moisturizer.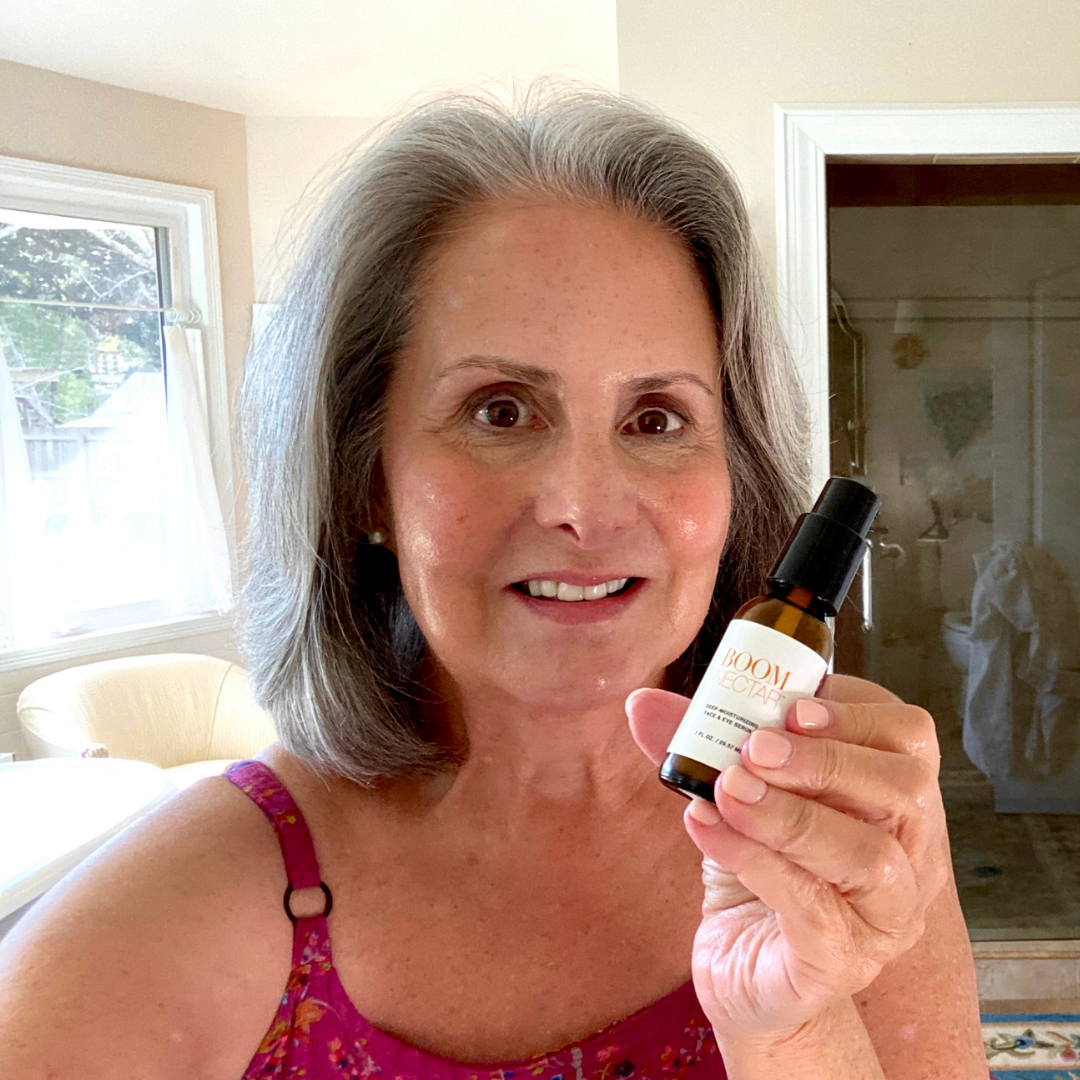 "Boomsilk is like butter," Jane says. "It's a rich, luxurious moisturizer. I put it on my neck, I put it on my arms, I put it on my legs."


Boomsilk contains just five all-natural ingredients, including honey with naturally occurring royal jelly, beeswax with pollen and propolis and extra virgin olive oil for dewy, hydrated skin.

The best part? All of Boomsilk's ingredients are certified organic. 

Jane's daily skincare routine leaves her skin looking nourished and deeply cared for. We love her radiant glow.

What do you think about Jane's skincare routine? Do you have a favorite Boom skincare ingredient?

CHECK OUT OUR MOST POPULAR CONTENT