Beth's Lively Makeup Takes 5 Minutes With Boom
Beth's Lively
Makeup Takes 5
Minutes With Boom
63-year-old Beth Dolan lives in Southern California where she's a producer, writer and podcaster. 
Beth's complete daily look comes from the Boomstick Trio®, our original pro-age cosmetics, and Boom Bright™, our gentle, moisturizing mascara.
"They contain everything that I have certainly found that I need—from moisturizer to makeup to just a little bit of highlight," Beth says. 
In this video, Beth shows you the routine she uses daily while she's busy working on her upcoming documentary film, Stranger at Home.
Watch below as she shows you how she does it. 
1. Start with moisturized skin.
Beth starts with a clean, moisturized face, then adds a touch of Boomstick Glo®, our moisturizing Boomstick. 
Sized perfectly for your pocket or purse, this creamy moisturizer contains all-natural ingredients for soft, hydrated skin on the go. 
"Boomstick Glo is a moisturizer that you can just use all day long if you'd like. Lips, mouth, eyes…just a little bit of freshening. It's just fabulous," Beth says.
2. Smooth out with foundation.
Next, Beth likes to use a little bit of foundation to even out her complexion. 
"I have a red complexion," Beth says, "and I wanna feel just a tiny bit more smoothed out before I use the other Boomsticks. So I use just a tiny bit—like half my baby fingernail—of color match foundation."
If you wear foundation, we suggest applying it over your moisturizer and under your Boomstick cosmetics just like Beth does.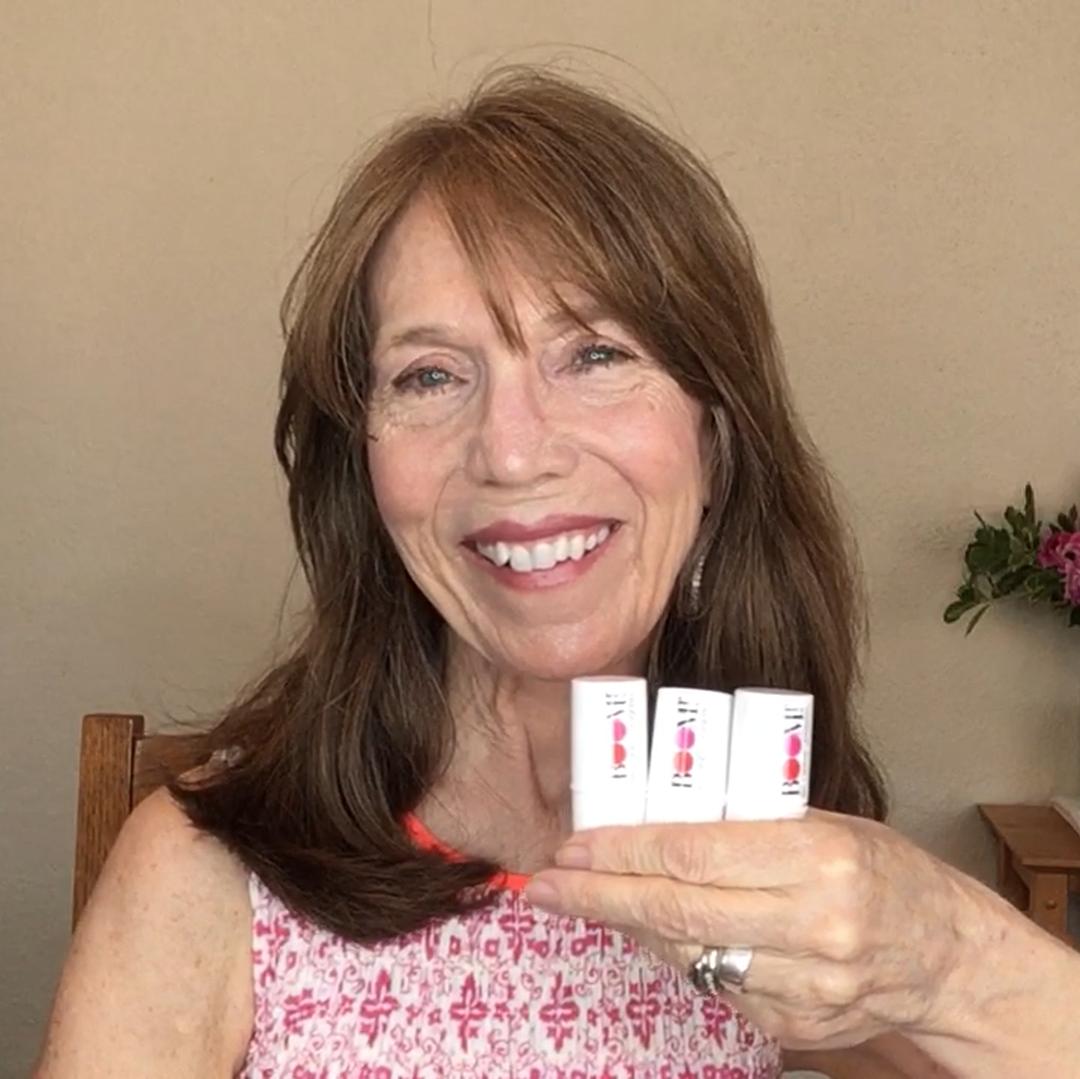 3. "My favorite, favorite, favorite…is Boomstick Color."

Now Beth is ready to apply the rest of her makeup. She begins with Boomstick Color®. 
"My favorite, favorite, favorite of the Boomsticks is Boomstick Color," she says.
Our original multitasking Boomstick adds just the right amount of color to your cheeks, lips and anywhere else you care to apply it. 
Made with sheer, blendable pigments, Boomstick Color matches every skin tone to create a naturally beautiful look.
Beth applies this Boomstick to her cheeks and lips. 

Then she dabs more on her forehead and neck for a hint of sun-warmed skin. "We'll blend," Beth adds. "Like every good painter, you're blending."
4. Not frost or glitter—it's Boomstick Glimmer.
Beth adds a bit of shimmer to her face next with Boomstick Glimmer®, our creamy highlighter.
"It's not frost, it's not glitter—it's glimmer. It's got a little pearlized effect to it. It catches light," Beth says. 
Beth dabs on Boomstick Glimmer for "an extra bit of zhuzh," as she says.
She applies it to her brow bones, cheekbones, cupid's bow, beneath her lower lip and the tip of her nose. 
5. Fabulous Boom Bright.
The next-to-last step in Beth's routine is to define her lashes with our mascara, Boom Bright™. 
"This mascara is fabulous. It smells divine. This is a recyclable sugarcane container so you know they just thought of everything," Beth says. 

Everything about Boom Bright was designed for women like Beth, from the gentle, moisturizing formula to the soft-black color that goes great with silver—or auburn—hair. Beth dips just once into the squeezable tube, then brushes on Boom Bright. 
She says, "I just don't need much. I don't want much. "I think that's one of the glories of going down the life path. You just realize: simplicity, efficiency, path of least resistance. But I still want to feel good."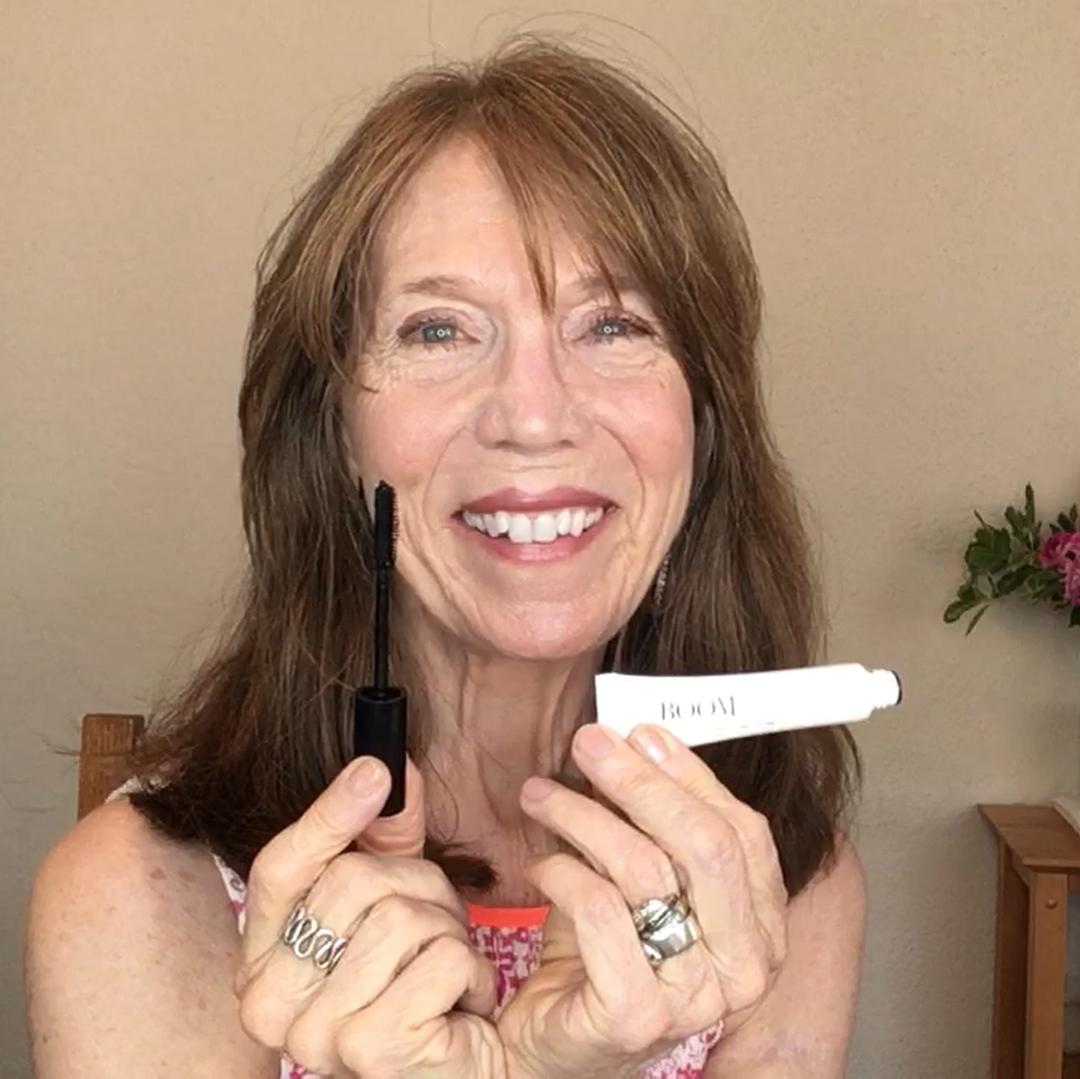 This smudge-resistant mascara is water-based for easy removal, so you won't risk your delicate lashes taking it off. 
6. Finishing touches.
Before Beth heads to her video call, she touches up her lips with Boomstick Color. She uses a small brush to make sure it's blended. 
Finally, she uses her fingertip to add a small dot of Boomstick Glimmer to the inside corners of her eyes. This makes them look open and lively—just like Beth likes. 
In just a few minutes, Beth is done with her makeup routine. She looks lovely, bright, awake and ready to start her day. 
What do you think of Beth's look? Tell us in the comments below.
CHECK OUT OUR MOST POPULAR CONTENT