Authenticity, Simplicity, Self-love: LaJuan's Boom

Authenticity, Simplicity,
Self-love: LaJuan's Boom

Boom Ambassador LaJuan Carter-Dent is a big Boom fan.
LaJuan fell in love with Boom's authenticity and simplicity while watching a video featuring our founder, Cindy Joseph. 
She says, "That's when I was sold. I felt compelled to try and support a brand that promoted this type of authenticity and honesty."
Today, LaJuan shares her daily Boom routine. She says, "I am rocking this look every day. I feel healthy. I feel genuine. I feel great, inside and out."
Touch-up dry spots with Boomstick Glo™
LaJuan begins with Boomstick Glo, our moisturizing stick. 
"I just dab it wherever I need to feel moisture," LaJuan says. She uses it around her eyes, cheeks and lips. "It's the consistency of a cocoa butter stick to me."
Boomstick Glo is made with the same ingredients as Boomsilk™, LaJuan's Boom favorite and our best selling moisturizer. "Olive oil, honey, beeswax… Nature's great ingredients that have been around for thousands of years."
Add "pops of color" with Boomstick Color™
Next, LaJuan uses Boomstick Color to add warmth to her skin. 
"Do not be fooled by how dark this is because it is sheer," LaJuan says. "You can put on more to get some depth in the color if you'd like."
Boomstick Color is a sheer, berry tint that allows your natural skin tone to show through for your own customized color. Use it to mimic the look of naturally sun-kissed skin or a happy blush.
LaJuan applies this cosmetic stick to her lips, the apples of her cheeks, "Anywhere I want a little pop of color," she says.
She also adds, "It doesn't feel gunky, it just feels like more moisture."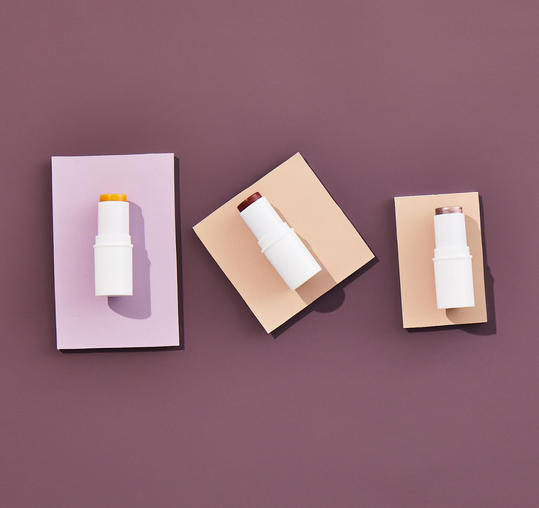 LaJuan's favorite… Boomstick Glimmer™
LaJuan's favorite Boomstick is Boomstick Glimmer. Shey says, "I wear Boomstick Glimmer all the time, whether I'm going to the grocery store or boppin' around town, doesn't matter. A little bit of pop and sparkle."
LaJuan applies this pearlescent highlighter down her nose, just beneath her brow bone and on her cheekbones to brighten her skin and add a bit of glamour. 
You can also use Boomstick Glimmer on your eyelids or the center of your forehead to enhance your bone structure.
Finish with Boom Bright™
Finally LaJuan applies Boom Bright mascara. 
Boom Bright is formulated for the shorter, drier lashes women often have after 50.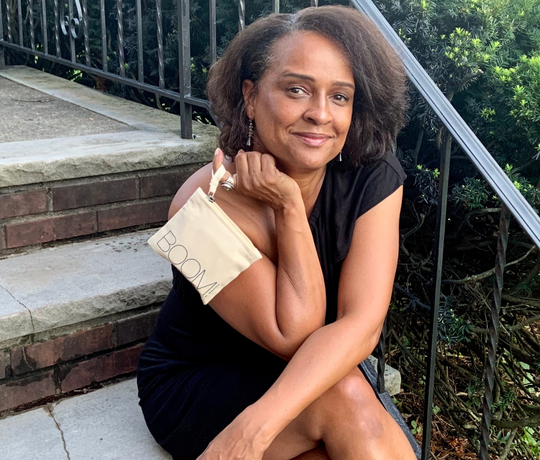 Boom Bright is water-based, so it doesn't contain harsh ingredients that dry out your lashes or make it difficult to remove. In fact, you can use water or a small dab of Boomsilk to easily remove this mascara. 
This pro-age mascara separates and lengthens as it hydrates for bright, beautiful eyes and healthier lashes.
LaJuan also points out that Boom Bright is packaged in an eco-friendly green plastic that's not made from fossil fuels: "So it's good for the body and the soul."
LaJuan has one final tip to share. "I stick Boom Bright in my Trio bag." Boom Bright fits right inside with your Boomstick Trio™, so you can easily carry these essentials with you wherever you go.
"That is my look for the day, the week… probably the year," LaJuan says. 
"If I were going to do a live performance or something on television I would put on foundation and powder because those lights are unforgiving. But other than that, I am rocking this look every day. I feel healthy. I feel genuine. I feel great, inside and out."
How about you? Does wearing Boom make you feel good? 
CHECK OUT OUR MOST POPULAR CONTENT