Aminah's Boom Skincare for an Awake, Fresh Look
Aminah's Boom
Skincare for an
Awake, Fresh Look
Aminah Smith leads a busy, active life in Georgia. 
Aminah's middle name is Joy, which definitely describes her pro-age attitude. She says, "Enjoying this stage of life feels good and comes naturally for me." 
While Aminah says she's somewhat new to makeup, her skincare game is 100% on point. 
Watch below as this beautiful 62-year-old shows you her Boom routine for healthy, glowing skin. 
1. Start with Boom Scrub
Aminah starts her skincare routine with Boom Scrub™, our deep pore cleanser and gentle exfoliant. She says, "One thing that I like about the Boom Scrub is the little scrubby things, they don't hurt."
Boom Scrub removes dull, dry cells to reveal the fresh, soft skin beneath. 
Unlike other scrubs that can cause micro tears and abrasions, Boom Scrub's exfoliating agent is oat kernel flour rolled in jojoba esters for extraordinarily gentle exfoliation.
Aminah applies Boom Scrub all over her face and neck. Usually, she waits five minutes to deep clean her pores as well.
Today she says, "We're going to act like it's been five minutes. Again, I use it twice a week so I really have no loose skin but I really wanted to share that product with you and tell you about it."
2. Moisturize with Boomsilk.
Next, Aminah applies Boomsilk®, our luxurious all-in-one moisturizer. 
As she points out, Boomsilk and Boomstick Glo contain the same, all-natural ingredients in different proportions.
Boomsilk contains less beeswax to create a luscious cream that hydrates your skin from head to toe. 
Aminah says, "Boom products, for me, take the place of no less than one dozen products out of my arsenal. 
"Boomsilk can be used on the face, on the eyes, on the hands, on the cuticles, on the knees, on the elbows—you don't need much," she adds.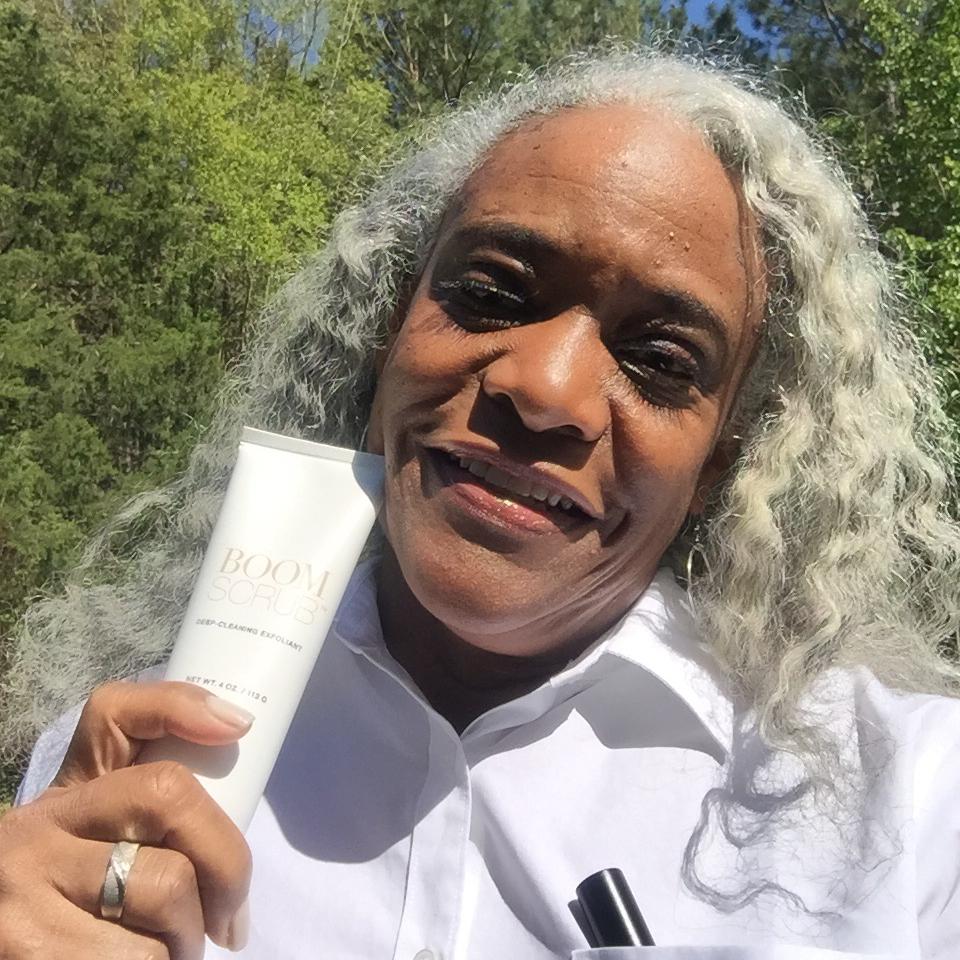 3. Boom Nectar
®
for extra loving care.
Next, Aminah says, "On days when I want to feel extra special, I pull out my Boom Nectar."
This rich, moisturizing serum gently hydrates delicate skin with powerful all-natural ingredients including witch hazel and avocado oil. 
Aminah uses Boom Nectar to treat her skin with extra loving care. 
"I feel as though the skin by my eyes has been neglected. I have allergies, especially since I moved to the South, and I used to rub my eyes—really not good. So I'm doing some maintenance here," she says.
You can use Boom Nectar anywhere on your body for soft, hydrated skin.
4. Boomstick Color "for the fun of it."
Aminah says she's staying in today, "But just for the fun of it, because it is downright fun, I'm going to grab my Boomstick Trio and I'm going to use my Boomstick Color."
Boomstick Color® is our multitasking cosmetic that's a lipstick, blush, bronzer and contour all in one. 
This creamy cosmetic adds a look of sun-kissed warmth to Aminah's skin.
She says, "Add a little bit on my lips and just a little on the cheeks because you never know who's going to stop by, or what if I decide to run an errand that I hadn't planned, right? Even if no one stops by, I look at me."
Aminah uses her fingers to blend, and with that, her look is complete. "I look awake, fresh," she says. "My skin has been shown a little bit of love, and it's time to get this day started."
We think she looks beautiful. 
We love that Aminah applies Boomstick Color even when she's alone. Tell us… Do you ever apply Boomstick Color when you're by yourself? 
CHECK OUT OUR MOST POPULAR CONTENT