Alexandra's Relaxing Nighttime Skincare Routine
Alexandra's
Relaxing
Nighttime
Skincare Routine
Does your nighttime routine refresh you like this? 
53-year-old Alexandra Taylor works the night shift, which can be hard on her body—and her skin. 
So before she goes to bed, she refreshes and revitalizes her skin with Boom. 
Alexandra has been using Boom for just over a year. In that time, she's developed a nighttime skincare routine that rejuvenates her skin as it relaxes her before bed. 
In this video, Alexandra shows you exactly how she does it.
1. Boom Gold "is an incredible oil".
Alexandra's skin is already cleansed and exfoliated thanks to Boom Clean® and Boom Scrub™. Now she's ready to moisturize and reaches for Boom Gold™.

"This is an incredible oil," she says. "You do not need much. That's one thing that I really enjoy about all the Boom products is a little goes a very long way."
This potent blend of organic oils and all-natural ingredients hydrates and revitalizes your skin.  
Alexandra pats two drops of this luxurious oil onto the skin around her eyes and on her neck and décolletage.
Boom Gold's liquid formula absorbs quickly and won't leave your skin oily or greasy—just glowing. As Alexandra points out, it also smells amazing. 
"I cannot tell you," she says, "you just gotta try it, just so you can smell this. It's incredible. It just absorbs right in, it's amazing."

"So once I have that on, I just take a few deep breaths," she adds. "The smell is instant relaxation for me."
2. Boomsilk "makes me think of honey."
"While this is settling in, I'll take the Boomsilk…" Alexandra says next.
Boomsilk® is our best-selling all-in-one moisturizer. 

This simple, all-natural moisturizer contains organic olive oil, honey and beeswax with pollen and propolis for skin that's soft as silk and deeply nourished.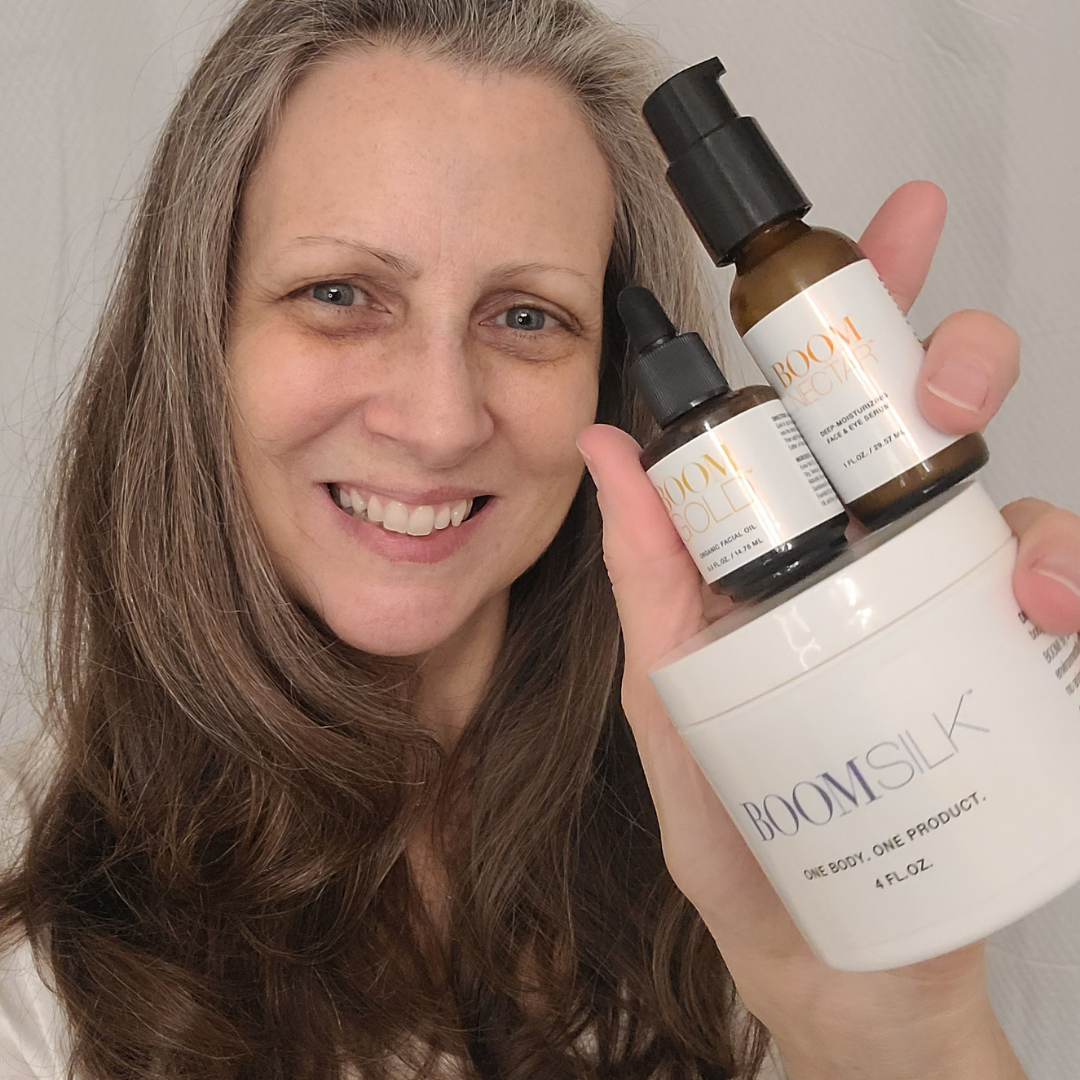 You can also rest easy knowing that our bee-produced ingredients are certified organic and sustainably sourced. 
"The color just makes me think of honey," Alexandra says. She uses this incredible moisturizer on any dry spots including her arms, knees, elbows, hands and feet. 
"It feels amazing and nurtures my skin, and I just feel like I'm replenishing everything that I lost that day at work," she says.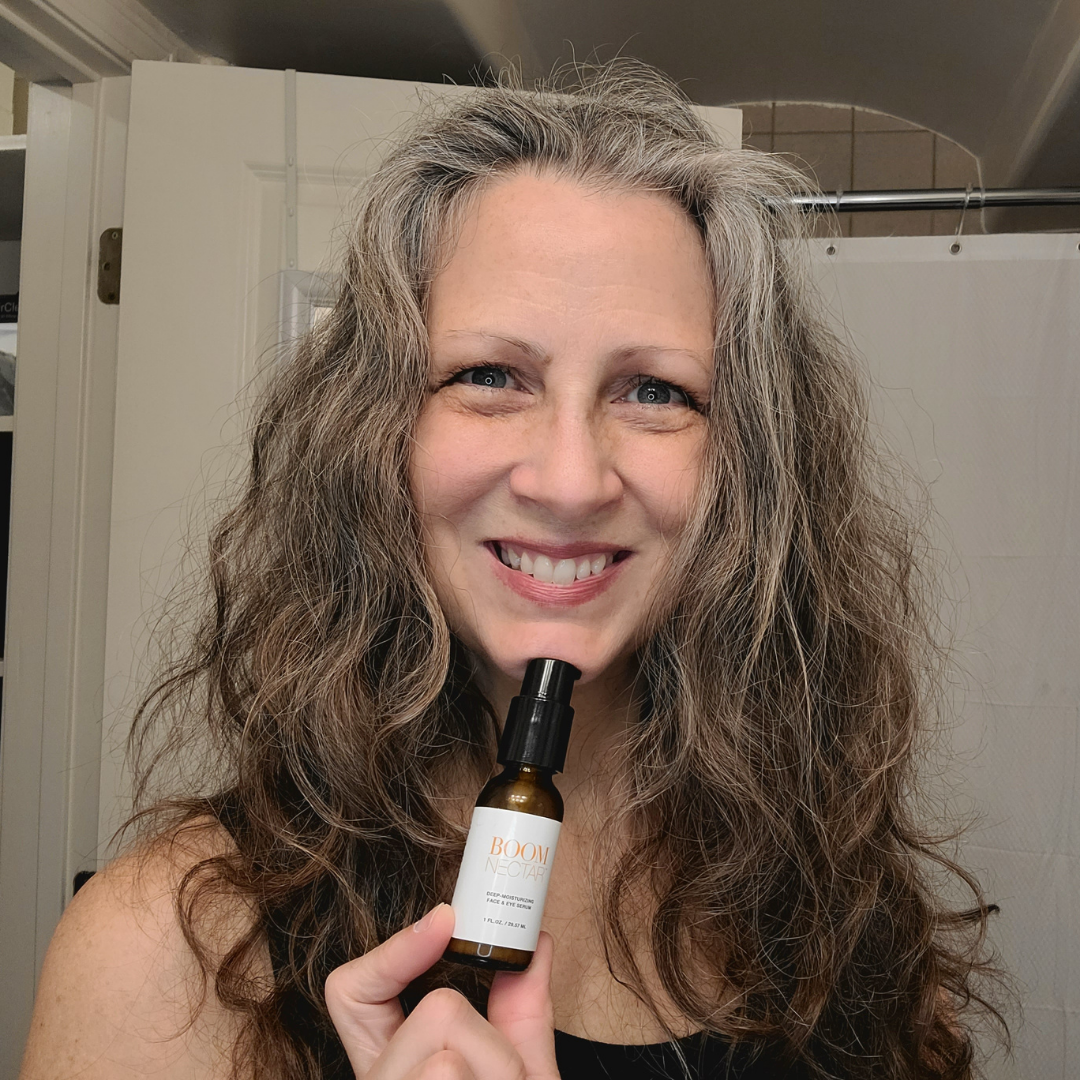 3. "Rich and wonderful" Boom Nectar
"The last thing I do before I go to bed is Boom Nectar," Alexandra says.
"Just wait—you'll see again how rich and wonderful it is."
Boom Nectar® is our robust moisturizing serum that hydrates and nourishes your skin with 16 all-natural ingredients, including avocado and jojoba oils, as well as lemon and orange peel oils. 
"I probably don't need to, but I use two pumps because I love this stuff," she says.

Alexandra gently presses Boom Nectar onto her forehead, cheeks, eye area, neck and décolletage.
"This lives on my eyes, my neck… See, this is just heaven," she says with a deep breath.
Boom Nectar's potent formula leaves your skin soft, supple and glowing. 
"I start my day with Boom, I end my day with Boom," says Alexandra. 
"I feel like I'm taking really good products that are healthy for my skin and just nurturing myself and caring for myself… It's almost like giving myself a hug when I use these products at night right before I go to bed," she adds.
We love Alexandra's soothing nighttime routine.
Tell us… How do you care for your skin at night? 
CHECK OUT OUR MOST POPULAR CONTENT