A Step-by-Step Guide to Boom from Ambassador, Beth Maxwell

The self-proclaimed "Southern Gal," Beth Maxwell, started using BOOM! eight months ago.
At 59, this Tennessee native believes in being comfortable in her own skin—whether she's filling her roles as wife, mother or Kindergarten Assistant. 
That's why Beth switched to her spiky silver hair a couple years back. She says allowing her hair to go natural gave her the confidence to feel comfortable in her own skin.
Now Beth is determined to take care of that skin. That's where BOOM! comes in.
Beth now uses BOOM! every day. Today, she's giving you a step-by-step guide to reveal exactly how (and what) she uses to keep her skin looking healthy and vibrant. 
Watch her video or read on for a look at her daily Boom routine.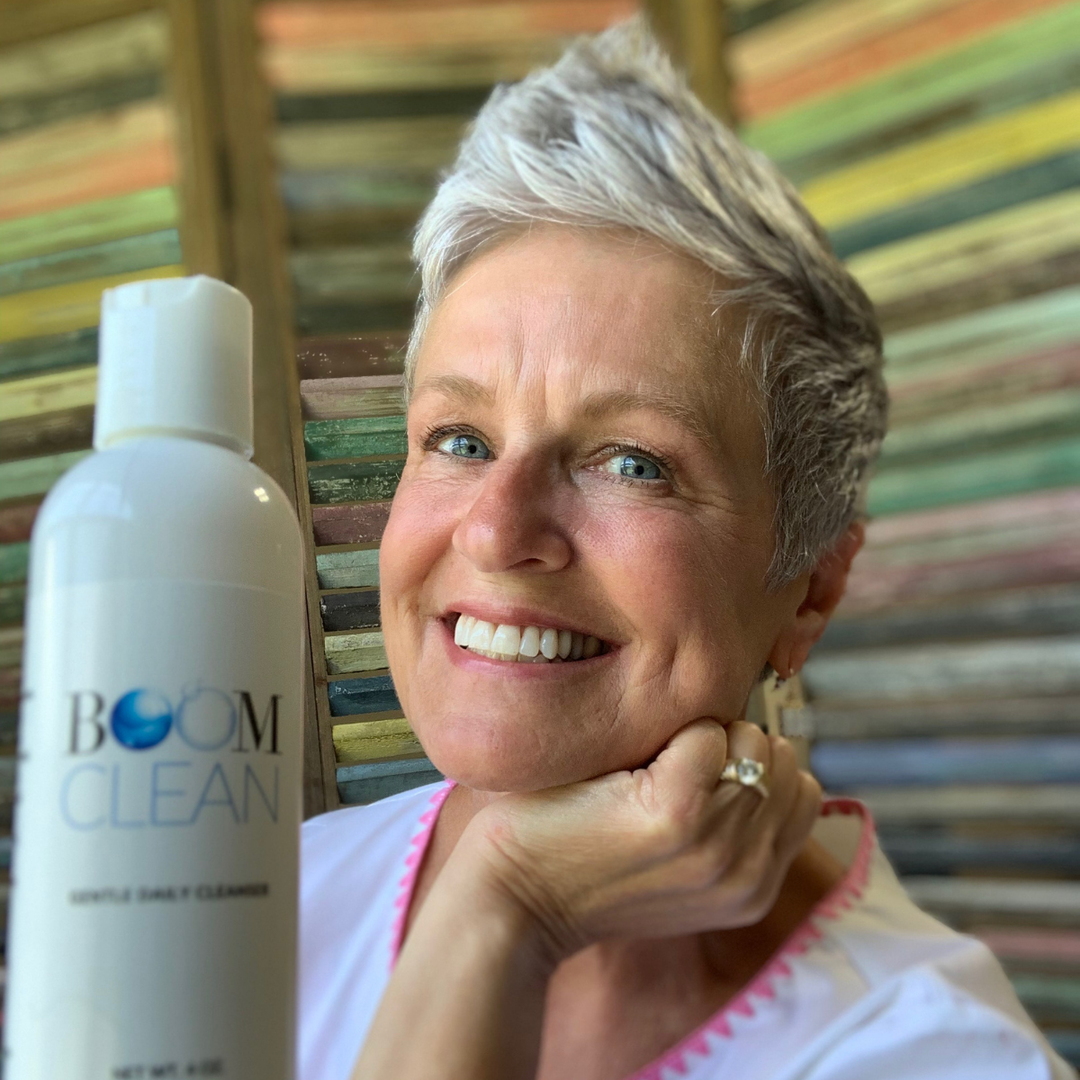 Step #1: Start with a clean, fresh face.

Every day, Beth begins her routine by washing her face with our cleanser, Boom Clean.
Boom Clean is safe to use every day to remove all makeup, dirt and impurities from your face. Beth uses Boom Clean both morning and night to leave her face feeling soft and refreshed. 
To try Boom Clean yourself, squeeze a small amount into your hand. Use your fingertips or a washcloth to massage this cleanser into your face. Then rinse completely with water.
That's it—you're ready to start (or end) your day with a clean, fresh face. 

Step #2: Add a dose of hydration with Boom Gold. 


Beth calls Boom Gold "a little goldmine." 
After washing her face, Beth uses a couple drops of this organic facial oil to add a dose of extra hydration to her face. She loves how the extra hydration plumps up her skin. 

If you've never tried Boom Gold before, it's very simple to use. Just add between one to three drops of Boom Gold to your hand. Then use your fingers to apply this lightweight oil in a circular motion on your most delicate areas of skin. 
For example, Beth loves using Boom Gold on her cheeks specifically. But you can use Boom Gold on the delicate skin around your eyes, on your forehead, nose, chin, and neck. 


Step #3: Bring back your skin's luster with Boom Nectar.

Beth likes to follow-up Boom Gold with our moisturizing serum, Boom Nectar.
Boom Nectar is designed to deliver vitamins, minerals, fatty acids and other nutrients to the deepest layer of your skin, so you can rejuvenate any dull skin from the inside out.
As Beth says, "It just brings back a luster that you may have lost."
To apply it, Beth puts a couple drops of Boom Nectar in her hand, rubs it around and pats this serum all over her face. For yourself, you can use Boom Nectar all over your face, or just stick to the delicate areas around your eyes, cheeks, T-zone and neck.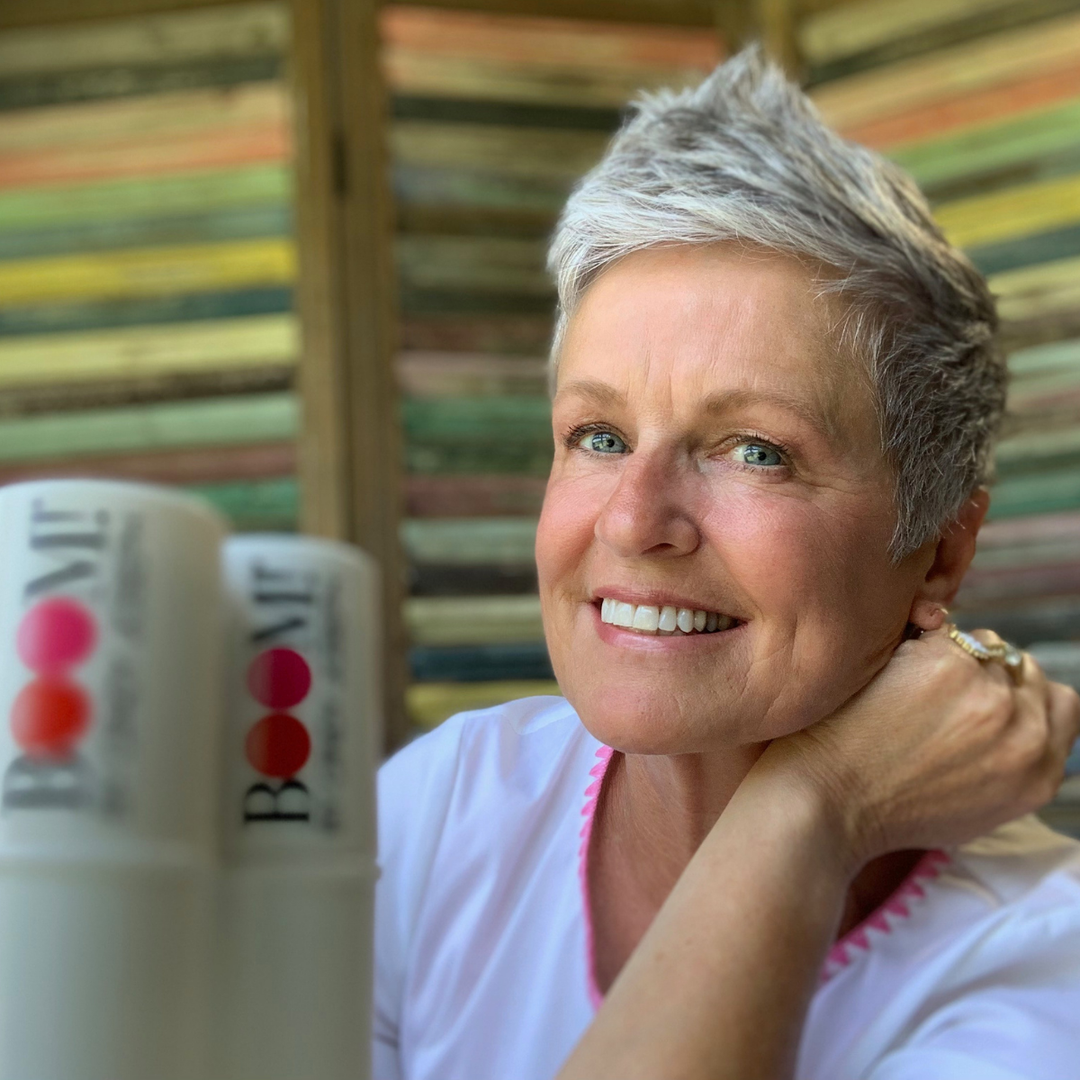 You can use Boom Nectar by itself, or with Boom Gold as Beth does. If you choose to use both, we suggest applying them in the same order that Beth uses. 

To copy this technique, apply one to three drops of Boom Gold on your face first. Let it absorb into your skin for a minute, and then add a drop or two of Boom Nectar. 
Step #4: Moisturize with the shine-control Boom Cotton.
Next, Beth adds another moisturizer—the shine-control Boom Cotton. 
(If you're wondering, we call Boom Cotton "the shine-control moisturizer," because it leaves your skin with a matte finish, instead of a silky one.)
In the morning, Beth massages a little Boom Cotton all over her face after applying Boom Gold and Boom Nectar. (You can apply all three in less than five minutes, so it's easy to use them together if you like extra moisture like Beth does.)
Boom Cotton contains only organic ingredients, including organic beeswax. We use beeswax in all our moisturizers because it creates a natural barrier for your skin, that can protect against environmental toxins in the air.
As Beth says: "I feel good about stepping out into the elements. I know that I'm well-protected."
Beth also uses Boom Cotton at night, before she goes to sleep. For yourself, you can use Boom Cotton as often as you like to hydrate your skin from head to toe.
Step #5: Makeup next… especially Boomstick Glimmer!
Last step: Beth applies all three Boomsticks.
Even though she's already moisturized, Beth uses her Boomstick Glo to add extra hydration to a few specific places. She concentrates on any remaining dryness on her brow bone, the area around her mouth, and any patchy areas on her hands.
Next she adds Boomstick Color. Beth quickly dabs Boomstick Color directly onto her cheeks, forehead, and lips. Then Beth rubs it in with her fingers, until she sees the color she wants.
Finally, she gets to her favorite—Boomstick Glimmer. 
Beth loves wearing Boomstick Glimmer for what she calls "an extra pop." (And she wears Boomstick Glimmer in more places than we've seen anyone use!) 
First, she dabs Boomstick Glimmer directly onto her brow bone, for a touch of sparkle. Then she uses it to highlight her both forehead and her cheeks. Then she adds a little Boomstick Glimmer directly onto her lips for another "extra pop."
She even uses Boomstick Glimmer to highlight the bridge of her nose! For more details, be sure to check out Beth's video above. 
In her video, Beth asked…
"This is how I Boom. Now I want to ask you a question: How do you Boom?"
We'd love to hear how you Boom in the comments below.
CHECK OUT OUR MOST POPULAR CONTENT