5 Pro-Age Makeup Tips for Bold, Dazzling Eyes
Our eyes are often our most intriguing feature. 
We can communicate joy, mirth, love and contentment through our eyes in ways much deeper than words can convey.
And they are the lenses through which we view our friends, family and the world.
Since our eyes have this special importance and significance, it's natural to want to draw attention to them.
But if you're highlighting your eyes the way you've always done—with the makeup you used in your 20s and 30s, for example—it might be time to update your routine.
Our eyes may be ageless, but our eyelashes, eyebrows and the skin around our eyes may not be.
As we age, the delicate skin around our eyes gains texture and may be drier. Our lashes may thin and break and eyebrows may lighten. 
These changes require adjustments to the techniques you used to highlight your beautiful eyes in your 20s, 30s or even your 40s.
So we've gathered five pro-age tips on how to define and highlight the eyes—especially for your 50s and beyond. Read on below.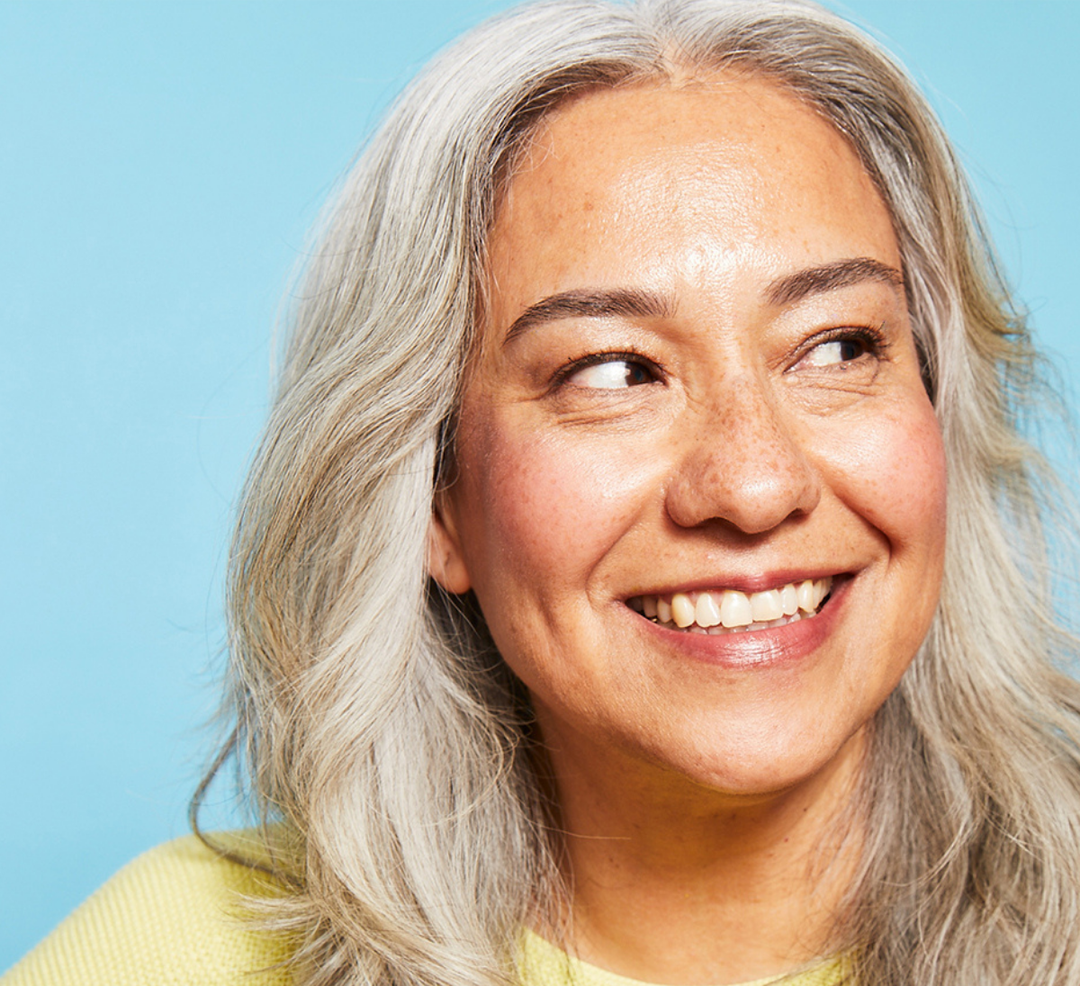 Tip #1 - Moisturize around your eyes.
The first and most important step in any makeup (or skin care) routine is to moisturize before applying makeup. 
Applying a moisturizer all around your eyes, from your eyelids to the brow bone, under-eye areas and the inside and outside corners of your eyes will help protect your skin. Moisture also makes it easier to apply and blend your makeup.
We suggest Boom Gold, our organic facial oil, for this purpose. It's lightweight and dries quickly so you only need to wait a minute or two before continuing with your routine.
Tip #2 - Don't conceal. Reveal.

If you watch YouTube makeup videos, you'll see many young women applying a heavy layer of concealer under the eyes.
That might work for a 20-year-old. But for women in their 50s, 60s, 70s and beyond, applying concealer is neither necessary nor advisable. 
Concealer adds and accentuates texture—something most of us have plenty of by the time we reach our 50s. 
Instead, we recommend skipping foundation and concealer and showing off your naked skin (moisturized and treated well, of course). 
If you can't quite skip the foundation, we suggest using a creamy, luxurious formula that doesn't add much texture to your skin. Find one that matches your skin tone exactly and use a light hand to apply it. 
Tip #3 - Leave powdered eyeshadow in the dust.
In your 20s and 30s, it might have been fun to get really elaborate with your eye makeup—contouring, getting creative with color or applying a smokey eye. 
But as we age, layers of powered eyeshadow can settle into the crease and deepen it.
Our faces already have texture and character. We don't need to add more.
So instead, use cream-based color—and keep it simple. 
Boomstick Glimmer works great as a cream-based eyeshadow. It blends to match your skin tone, so it's always the right shade, and the creamy formula doesn't accentuate any fine lines, wrinkles or natural texture on your skin.
Boomstick Glimmer creates a beautiful, creamy glow that's fantastic for nights out, parties, or holidays. Try applying it to the inside corner of your eye and along the brow bone to illuminate your eyes.
To apply it, use your fingers (or a brush if you prefer) to dab a light layer of Boomstick Glimmer to the area you'd like to highlight.
Tip #4 - Define your eyebrows with a light hand.
As we age, brows often lighten and thin. And there's nothing wrong with that! But if you'd like to add a touch of definition or fill in thin spots, you can do so easily with a brow pencil. 
This isn't the time to use a heavy hand.
Instead, find a pencil that matches your current brow color. Use quick, short strokes in the direction the hair grows, with a very sharp pencil or beveled brush. Use a light hand to fill in where brows are sparse or thin. 
Stick with the current shape of your brows… don't try to recreate the brows you had at 20. 
Finally, don't try to make them look identical. As the saying goes, eyebrows should look like sisters, not twins.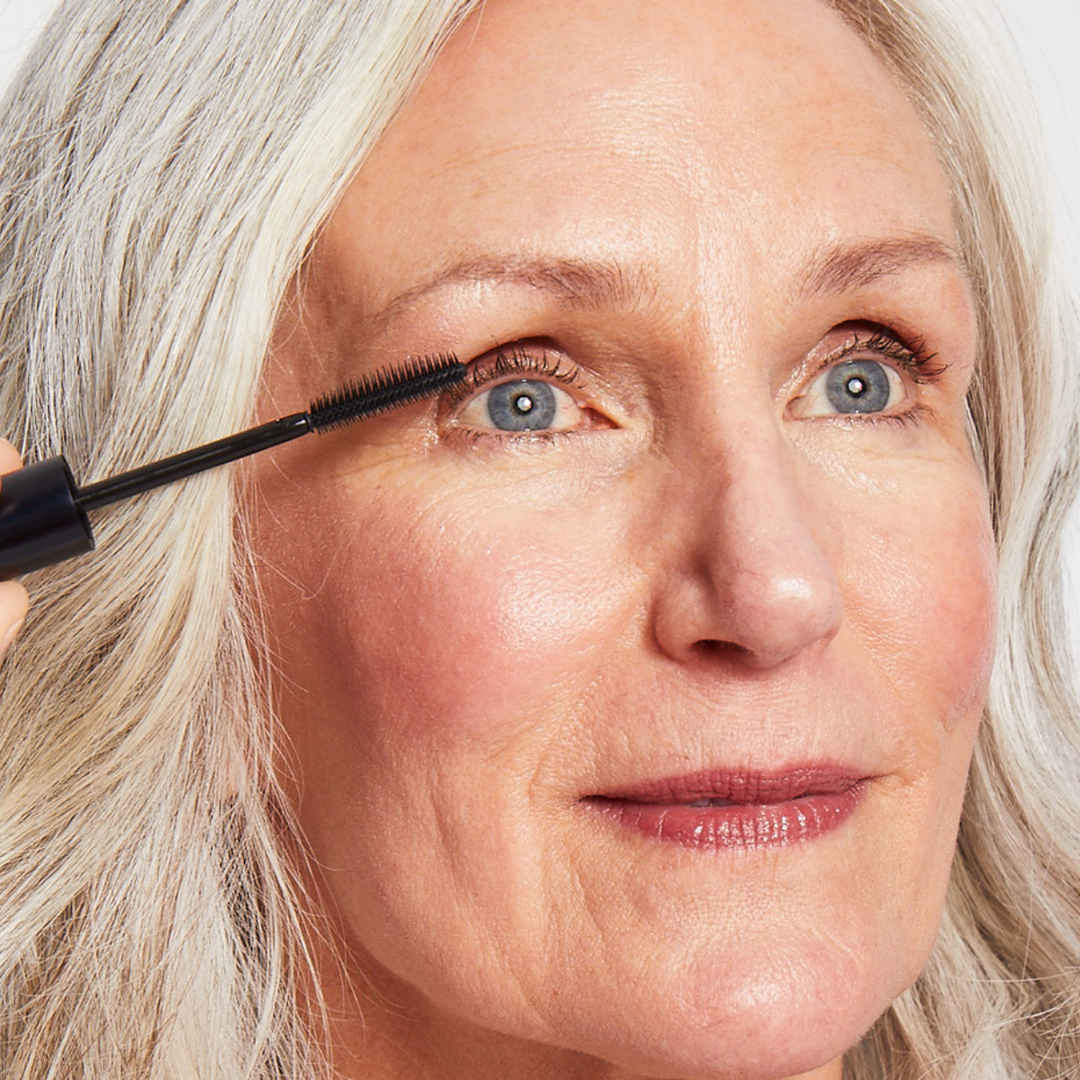 Tip #5 - Apply the right mascara last.
Last of all, apply mascara to give your eyes a little definition if you wish. 
This is another area where your routine might need an update.
We suggest using water-based mascara that won't clump or dry out your lashes the way oil-based mascaras can. 
We also suggest finding a mascara that is not waterproof. Waterproof mascaras contain harsh chemicals that can dry out your lashes and irritate the delicate skin around your eyes. They're also harder to remove, and harsh scrubbing can cause your eyelashes to fall out or break. 
Our team just introduced a new mascara that's made for your 50s, 60s and beyond. You can check it out here.

So what do you think? What eye makeup do you use? Have you changed your eye-makeup routine recently?
CHECK OUT OUR MOST POPULAR CONTENT