3 Sticks. 10 Minutes. A Naturally Beautiful Look

3 Sticks. 10 Minutes.
A Naturally Beautiful Look

Are you wondering how to use BOOMSTICK TRIOⓇ?
Whether you're new to BOOM!, used to powder cosmetics or accustomed to using a different product for every part of your face, this guide is the perfect place to begin.
Boomstick Trio makes makeup after 50 easy and fun. These three cosmetic sticks are all you need to reveal a dewy complexion, highlight your favorite features and bring radiance and a sun-kissed glow to your skin.
In this guide, we'll teach you the basic steps to get the most out of your Boomsticks.
1. BOOMSTICK GLOⓇ
Boomstick Glo contains beeswax, honey and organic olive oil. You can use this all-natural moisturizer anywhere on your face and body to soften and hydrate your skin. 
Boomstick Glo is particularly useful for moisturizing dry spots while you're on the go. Its compact design fits into any bag or pocket for moisture touch-ups whenever you need them. Many use it on their cuticles or knuckles to keep their hands soft and protected.
Before makeup, apply Boomstick Glo across your forehead, down your nose, under your eyes, around your mouth and on your lips to enjoy a powerful dose of hydration. Then use your fingers to gently massage it into your skin.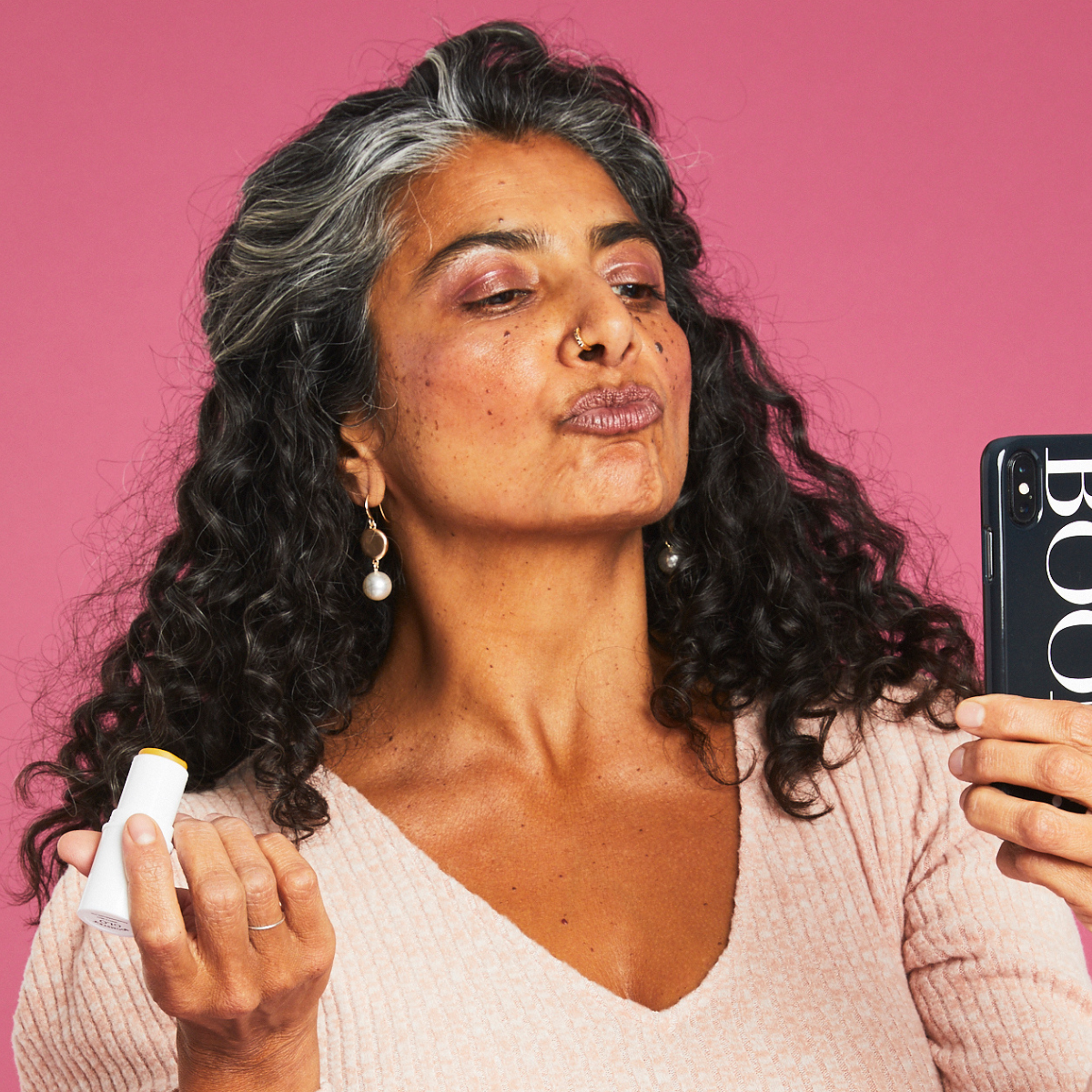 2. BOOMSTICK COLORⓇ
Boomstick Color delivers sheer, customized color wherever you want it. Use this creamy, multitasking stick as your lipstick, bronzer, blush and contour. 
We call Boomstick Color "the color of happiness" because it mimics the warm, natural blush that arises in your skin when you're happy or excited. 
To create this look, add Boomstick Color anywhere you blush, including the apples of your cheeks, your temples, forehead, neck and décolletage. Blend with your fingertips. 
Next, apply Boomstick Color to your lips. You might use a little for a casual hint of color or a bit more for a deeper, more dramatic look. 
Finally, dab Boomstick Color under your cheekbones for extra definition.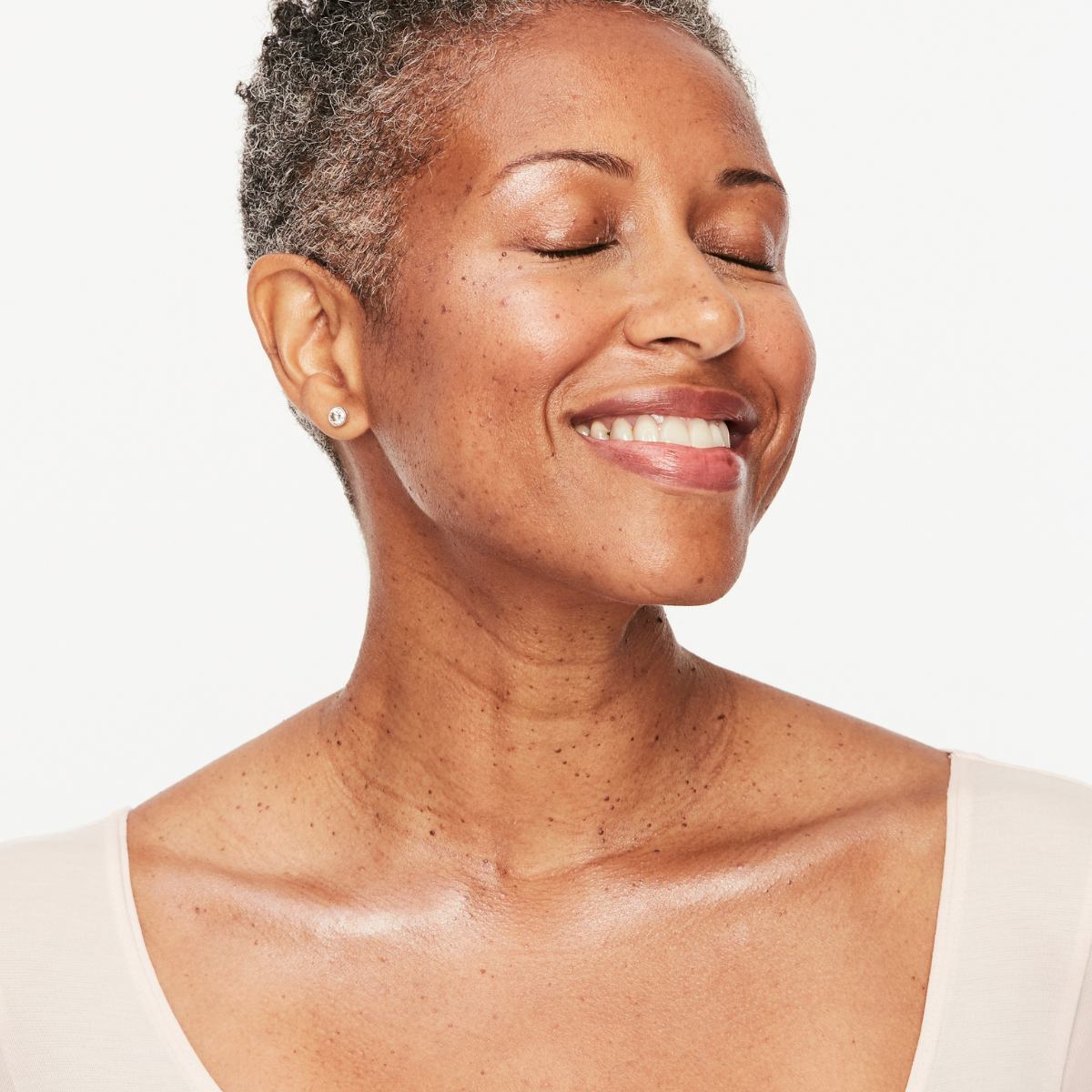 3. BOOMSTICK GLIMMERⓇ
Finally, add natural-looking radiance and subtle shimmer to your skin with our pearlescent highlighter, Boomstick Glimmer.
With just a hint of sheer color, Boomstick Glimmer was designed for women over 50 to add sophisticated luminance—without glitter or frost. 
Apply Boomstick Glimmer to the tops of your cheekbones, your eyelids and just under the brow bone, then blend. Create a bright-eyed look by dabbing Boomstick Glimmer onto the inner corners of your eyes. 
Next, try a little Glimmer on the center of each lip and your cupid's bow to enhance your naturally beautiful smile.

Finally, apply down your neck, along your collarbones and to your décolletage. The subtle shimmer accentuates bone structure while adding a touch of glamour to your skin. 
Feel free to play around and experiment to find your favorite combinations and looks. There's really no wrong way to do it, so just have fun! 
Do you have unique tips or tricks for applying Boomstick Trio? Please share them in the comments below.
CHECK OUT OUR MOST POPULAR CONTENT