10 Unusual Ways to Use Your Boom
10 Unusual Ways
to Use Your Boom
If you're like us, you're always on the lookout for new ways to use Boom.
Boom Ambassadors are a reliable resource for new and interesting ways to use our cosmetics and skin care. From oil cleansing to on-the-go cuticle care to protecting your hair, these tips are useful and fun. 
Read on for our top ten unusual Boom tips. Don't forget to stick around at the end to share your own! 
1. Cool overheated skin
Want a cooling treat after a hot day? Try storing your Boomsilk®, Boom Calm® or another favorite moisturizer in the refrigerator. Then, after a workout or time in the sun, replenish your skin's moisture and cool down with the chilled moisturizer. 
2. Bring wild brows under control
Searching for a way to keep wild eyebrows in place? Try this tip we learned from Boom Ambassador Sandy Berg: Glide Boomstick Glimmer® over your eyebrows, then use a spoolie or your finger to brush your brows into place. 
The creamy formula will help keep your eyebrows where you want them while the subtle shimmer adds radiance to your skin.
3. Save time by doubling up
Short on time? Boom Ambassador Cynthia Sitcov taught us this little trick. Rather than cleanse first and exfoliate after, try mixing Boom Clean® and Boom Scrub™ together in your hand before applying. You'll save time without sacrificing one bit of your skin care.
Boom Clean removes makeup and impurities while Boom Scrub deep-cleans pores and removes dead, dry cells for skin that's doubly clean, soft and smooth.

4. Remove makeup gently

Have you tried oil cleansing? Mireya Olmos taught us this technique during Boom Ladies' Night. Oil cleansing helps remove makeup, dirt and impurities from your face without drying your skin. 
You can use olive oil to cleanse, like Mireya does, or try using Boom Gold™. Warm a few drops in your hand, then apply to your face, gently massaging it into your skin. Then, use a warm, wet towel to wipe away remnants of dirt, makeup and oil.
5. Protect and condition your hair

Are you a swimmer? If so, you might enjoy this Boom tip from Cindy Sitcov. Cindy swims nearly every day, which can be tough on her hair. So before she puts on her swim cap, she runs a bit of Boomsilk through her hair. 
The beeswax and olive oil in Boomsilk help protect her hair from harsh pool chemicals. When she's finished swimming, her hair is soft and conditioned rather than damaged or dry.
6. Soften cuticles on the go
If you suffer from dry, cracked skin in winter, especially on your hands and cuticles, you're not alone. Dry, cold air can really do a number on our skin. But with Boomstick Glo®, you can easily touch up dry spots with deeply hydrating moisture whenever you need it. 
Just pop this convenient moisturizing stick into your pocket or purse and use it to hydrate and soften cuticles—or touch up other dry areas—any time you want. 
7. Minimize redness
Do you ever wake up with red eyelids? Boom Ambassador Hope Fitzgerald has a tip for you.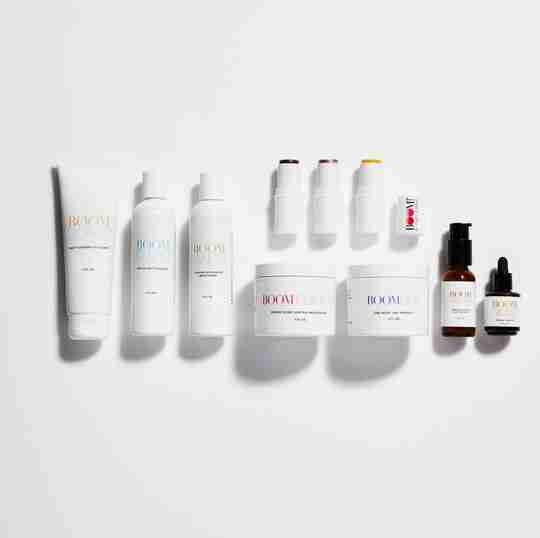 She uses Boomstick Glimmer to minimize the appearance of morning redness on her eyelids. Just use your finger to dab Boomstick Glimmer onto your eyelids and watch the redness fade as the pearlescent shimmer draws light and radiance to your skin.
8. Multitasking bronzer and contour
Bronzing and contouring are trendy at the moment. But do you need yet another cosmetic to do it? Luckily, the answer is no. 
You can use Boomstick Color® as a bronzer or contour color. Simply dab this cosmetic onto your temples and just under your cheekbones, then use your fingers to blend. The sheer berry tint adds sun-kissed warmth and enhances your natural facial structure.
9. A cooling after-shave skin treatment
Does your skin feel dry or itchy after shaving? Try soothing your skin with Boom Calm. The all-natural ingredients include olive oil, aloe vera and calendula essential oil for calming moisture anywhere on your body. You can even combine it with tip #1 for an added cooling experience. 
10. Get bright eyes
Create a bright, awake look with this little tip from Sandy Evenson. Use your finger to dab a bit of Boomstick Glimmer onto the inside corners of your eyes. The light-catching shimmer will give you a wide-awake, bright-eyed effect that's perfect for early mornings or days when you're feeling a little more tired. 
What do you think of these tips? Do you have any unusual Boom tips to share? If so, drop them in the comments below!
CHECK OUT OUR MOST POPULAR CONTENT